National
Grand Old Update: Endorsement For Romney, Gingrich Bites Back & Perry Is Delayed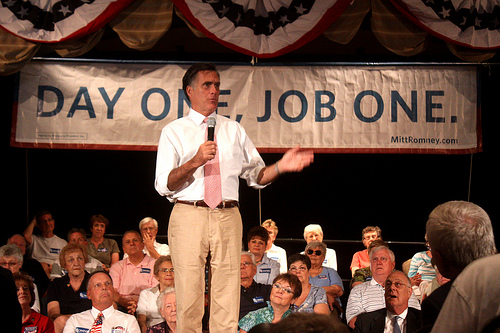 Iowa's highest-circulation newspaper announced Saturday its endorsement of candidate Mitt Romney for the GOP presidential nomination.
According to Politico, the editorial board of the Des Moines Register said Romney demonstrated "wisdom, sobriety and judgment." The paper did not back Romney during his run four years ago, but said he had matured as a candidate and made "the best case among the Republicans" that he could rebuild the economy.
From Politico:
The editorial went on to defend Romney against some of the attacks against him, paying particular attention to the charge that the candidate has flip-flopped on issues.

"Though Romney has tended to adapt some positions to different times and places, he is hardly unique. It should be possible for a politician to say, 'I was wrong, and I have changed my mind.'"

Until recently, Romney hadn't been focusing as much attention on the state this year as in the 2008 cycle. But he's stepped up his appearances there in the closing weeks before the Jan. 3 caucus, as Newt Gingrich and Ron Paul have been demonstrating increased strength there.

The Register took time out from expressing its support of Romney to blast those two.

"Newt Gingrich is an undisciplined partisan who would alienate, not unite, if he reverts to mean-spirited attacks on display as House speaker. Ron Paul's libertarian ideology would lead to economic chaos and isolationism, neither of which this nation can afford," the editorial board wrote.
Though the endorsement comes as a nice boost for Romney just a few weeks out from the caucuses, the Des Moines Register's nod of approval may not hold much weight with Republican voters. According to Politico's report, the paper's editorial board is considered fairly liberal, and has typically had more of an influence in Democratic primaries.

Meanwhile, opponent Newt Gingrich has taken serious heat in the last week after reports surfaced that he received $1.6 million from mortgage firm Freddie Mac as payment for consulting over the course of six years.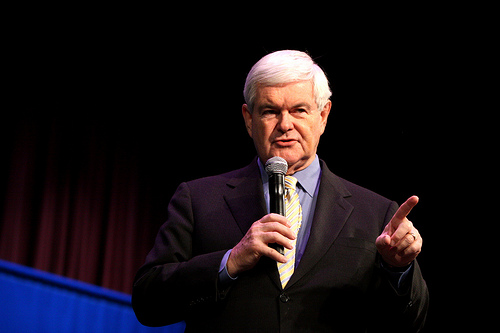 Gingrich said in a teleconference with Iowans Saturday he wanted to "set the record straight" about his work to "help poor people get homes,"
Reuters reported
.
"We had a company. The company had three different offices. We were paid annually for six years, so the numbers you see are six years of work," the candidate said. "Most of that money went to pay for overhead, for staff, for other things that didn't go directly to me."
From Reuters:
Gingrich's ties to the company have come under increased scrutiny in recent days after six former top executives at Fannie Mae and Freddie Mac were sued by U.S. regulators on charges of misleading investors about the companies' exposure to risky home loans in the run-up to the 2008 financial crisis.

Gingrich's Republican opponents have filled the television airwaves of Iowa and New Hampshire, the states with the first two nominating contests, with ads criticizing him for influence peddling and accepting money from a mortgage house that contributed to the deep 2008-2009 recession.

Gingrich had surged into the lead in some polls in the Republican battle to find a challenger to President Barack Obama, overtaking Mitt Romney, but polls this week showed support for Gingrich may already be softening.

A Rasmussen poll showed Romney, the former governor of Massachusetts, has a slight lead over Gingrich in Iowa. Two other polls show Ron Paul, a libertarian Republican congressman, moving into second place behind Gingrich in Iowa and gunning for an upset that would almost certainly help Romney by stopping Gingrich's rise.
Notably absent from that cohort of frontrunners is Rick Perry, who's had a rough time in polls of late. Further hurting his chances, a federal court agreed Friday to delay Texas' primary elections from March 6 to April 3. The move disqualifies Texas from participating in Super Tuesday.
Perry, trailing badly in the polls, needs a quick boost to make his presidential candidacy relevant again, and keeping the primary on its original date might have helped reinvigorate the campaign with support in his home state, said Cal Jillson , a political science professor at Southern Methodist University.

"He's going to have to win something — and the earlier the better," Jillson said.

A federal court in San Antonio requested that officials from the state's Republican and Democratic parties hammer out a plan for the primaries while the courts consider challenges to the Legislature's district maps. Under consideration was a plan to split the primaries, keeping the presidential contest on March 6 and delaying elections for other offices.

But when a plan emerged, it appeared that the Republican negotiators didn't feel compelled to do the governor any favors, especially considering that he has fallen from a top-tier candidate to an also-ran trailing dark horses such as U.S. Rep. Ron Paul, Jillson said.

"They had their own interests to think about," Jillson said of Republicans, noting that the party didn't want to split up the primaries because it could have dramatically reduced voter turnout and made the election results a lot less predictable.

Still, there might be a silver lining for Perry. If he no longer is in the presidential race by April 3, he could play kingmaker in the Texas primary by backing one of the remaining candidates.
Perry's camp has not publicly addressed the decision or made any apparent shifts in strategy to rally flagging support for the candidate.
Reach Catherine here; follow her here.
Best way to find more great content from Neon Tommy?
---
Or join our email list below to enjoy Neon Tommy News Alerts.