Los Angeles
Despite Construction Industry's Nosedive, Trades Promoted As Career Option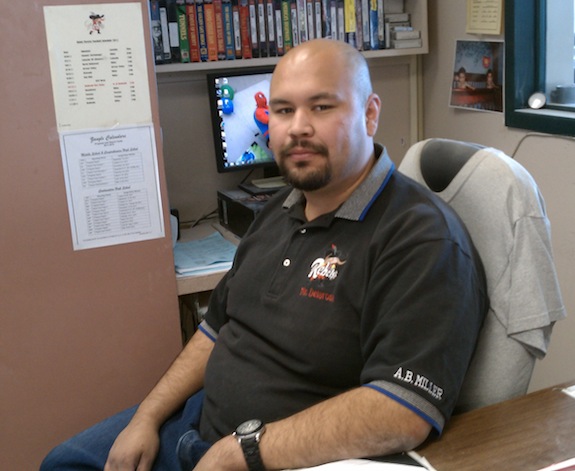 Faces of L.A.'s Jobless: A Neon Tommy Special Report >>>
Emmanuel De La Rosa doesn't teach a typical high school shop class.
The big garage where he teaches masonry at A.B. Miller High School in Fontana, Calif., is filled with mortar and cinder blocks made by his students, who he hopes come out better prepared to find work in a beleaguered economy.
Every week, students come into the warehouse where they learn the art and craft of bricklaying, along with other occupational skills. De La Rosa teaches advanced students on a forklift and backhoe.
The class reflects the continuing efforts of trade unions and apprenticeship programs to interest students in pursuing hands-on labor. Moreover, it gives students the work ethic that will apply to whatever path they take.
De La Rosa's class is a rarity in a state school system that primarily pushes college preparation as the ultimate goal. De La Rosa tells students that trades are not just jobs – they are viable careers.
"You have no loan debt, they pay you to go to school," he says. "I think it's a good alternative, especially if you're not going to college."
Trades have traditionally been an attractive employment path for young workers.
"For years, they said that apprenticeships are were the best education," said Amy Vasquez-Webb, head of the Masonry Industry Training Association. Now they are rarely discussed.
The lack of opportunity in trades deters potential workers, potentially changing the long-term shape of the labor force at large and further limiting opportunities for individuals not cut out for, or interested in, academia.
"There's a disconnect in the market," said Corrine Wilson of the Center for Policy Initiatives in Southern California. "A lot of kids aren't aware that trades could be an option."
The Inland Empire took a heavy beating in the recession, due in large part to the decimated construction industry. The county's unemployment rate hit 14.5 percent in 2010. On top of that, the area is unlikely to see much of an economic rebound until it pushes through its glut of foreclosures. One in every 154 San Bernardino County housing units received a foreclosure filing in October 2011, more than triple the national rate, according to Realty Trac.
De La Rosa began teaching three years ago after work in his field began to slow. He had fallen in love with the craft of masonry in his senior year of high school, and he went into an apprenticeship program at age 18. This was the beginning of an eight year career in the trade.
"To me, it was more artistic than anything," he said.
As projects disappeared and he had more downtime, he began volunteering for his old teacher, Mr. Freeman, who died of pancreatic cancer in 2009.
"That's when I knew that's what I wanted to do," De La Rosa said. When Freeman left, the job went to De La Rosa.
Trade jobs can be a path to economic stability. Bricklayer apprentices with no experience start with a base wage of $12 an hour, but can top out at $46 an hour. Add benefits and union membership, and there's a recipe for a stable middle class income.
Still, it's tough for him to get students interested. During the first week of school, he says, some students go to the school offices begging, in tears, to switch out of the class. They're not used to backbreaking work. "It's not for the weak," he says.
Some of his students end up graduating and finding skilled jobs as plumbers and carpenters.
At each end-of-the-year barbeque, the students show off work samples they've made on campus, using advanced bricklaying patterns techniques such as arches and spirals.
"It's not every day you see kids 16, 17 years old building these things," he says.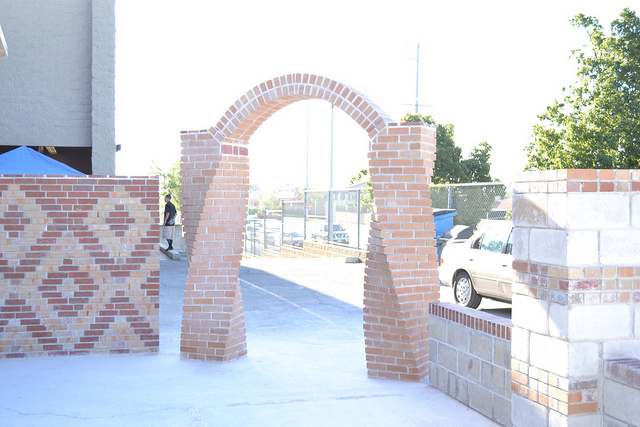 After Mr. Freeman died and De La Rosa took over, the class built a memorial bench on campus in the teacher's honor. Johnny Cornejo, now 19, who took the class under both Freeman and De La Rosa, says the project was his proudest moment in his four years taking the class.
"We engraved [Freeman's] name into it," Cornejo said. "And we used these beach rocks that his wife collected. So I asked her permission to have some of the beach rocks and place them on the bench itself."
After Freeman's passing, Cornejo was initially apprehensive about the new instructor. But they soon developed a close bond, and De La Rosa became a kind of mentor.
Cornejo originally wanted to go into a masonry training program while going to college to become an architect or construction manager. He eventually changed his mind and decided to apply for jobs at the local water company. Though he decided against bricklaying, the class provided important training.
"It taught me a good work ethic, showed me how to take pride in my work and how to be a good employee," he said.
Still, he tried for two years to get an entry level job as a water distribution operator. Meanwhile, he worked jobs in warehouses, fast food joints and a bakery to make ends meet and support his mother who doesn't work. The struggle for career employment reflects the state of the economy. Eight years ago, De La Rosa said, Cornejo would've been hired straight out of school.
Finally, the water company called Cornejo, but only to reject his application.
But, with De La Rosa's guidance, Cornejo didn't give up.
"I actually called back to give them a piece of my mind," he said.
Two weeks later, the same people called back and offered him the job.
"In this economy, it's rough out there," he said. "But you've got to be the one person who doesn't give up."
Reach Ryan here.
Best way to find more great content from Neon Tommy?
Or join our email list below to enjoy the weekly Neon Tommy News Highlights.