International
People Of Myanmar Gain Right To Protest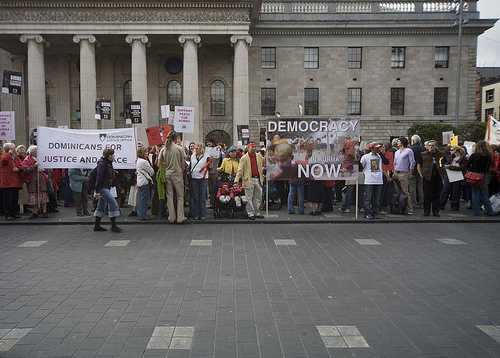 Myanmar's President Thein Sein signed legislation Friday allowing his people to form peaceful protests,
the Associated Press reported
Saturday.
The new law has some provisions, however. Citizens planning protests must submit requests five days in advance, and police can deny permission as long as they explain their reasoning.
Earlier this year, the civilian government in Myanmar took power from the military junta, beginning a series of reforms in the notoriously repressed nation. U.S. Secretary of State Hillary Rodham Clinton concluded a three-day visit, the first trip by an American secretary of state in more than 50 years.
Last week, Clinton told President Thein Sein that the U.S. will ease aid restrictions, a loosening trend that would continue only if the government maintained its reform efforts.
Ron Gluckman, a writer for The Daily Beast, commented on the latest development of what he called the "Burmese Spring":
Despite the ongoing sanctions, it's impossible not to smell the intoxicating fragrance of opportunity in Burma these days. All flights to the country are booked, not only by tourists but also by investors eager for an early piece of Burma's economy, which could boom once sanctions are lifted. "We aren't just ready to go but itching to do so whenever things change, and everyone expects that within months, if not weeks," said one Bangkok executive, who noted that many hotel chains already have sites staked out.
"I'm cautiously, cautiously optimistic," says Oo, the longtime ally of Suu Kyi. "This is all just a slight flicker of democracy. But through that flicker, we hope to build and increase it a little, and a little more, to make democracy burn brightly in Burma."
Also on Friday, AFP reported Myanmar officials reached an agreement to cease fire with a major guerilla group, the Shan State Army South.
During her landmark visit, Clinton said she had seen both "positive changes" and "encouraging commitments," but that there was still "so much to be done" to fully reform the country.
Reach Catherine here; follow her here.
Best way to find more great content from Neon Tommy?
Or join our email list below to enjoy Neon Tommy News Alerts.