Entertainment News
Celebrity Feuds Heat Up This Holiday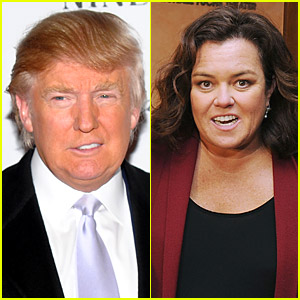 Tis the season to be jolly… unless you are one of the many celebrities fighting off camera. This December has seen a wide-range of stars feuding with other stars either on Twitter, Youtube or even Howard Stern's radio show. Here's a look at some of the juiciest feuds of the month.
Donald Trump vs. Rosie O'Donnell
It's part two of this celebrity feud that began back in 2007 when O'Donnell was a co-host for "The View" where she called the businessman a "snake-oil salesman."
Trump recently tweeted, "Same last name, same bad ratings- @lawrence and @rosie," referring to Lawrence O'Donnell's primetime show on MSNBC and Rosie O'Donnell's talk show on the Oprah Winfrey Network.
Trump then posted a Youtube video where he calls Rosie's show, "a complete and total disaster."
Rosie isn't one to hold back and this time was no exception. She later tweeted, "how many billionaires sell ties and have crappy non reality shows – none - go back to selling snake oil - #bankruptmuch?"
It didn't end there. Trump then talked about Rosie's new partner when he tweeted, "I feel sorry for Rosie's new partner in love whose parents are devastated at the thought of their daughtet being with @rosie- - a true loser." Rosie responded, "wow u r an a** in every way," and then linked to a Time magazine article titled, "Top 10 Donald Trump Failures."
"Teen Mom" Farrah Abraham vs. Kourtney Kardashian
Days after Kardashian announced she was expecting a second child with longtime boyfriend Scott Disick, "Teen Mom" and "16 and Pregnant" Abraham, 20, went to her Twitter and slammed the reality TV star. "Im Shocked Kourtney Kardashian is pregnant again, Did she not learn anything from TEEN MOM? Maybe its a fake pregnancy like kims wedding. SAD."
Kardashian responded to the young mom on Twitter asking, "Why would I have anything to do with teen mom? I'm 32 years old! I may look young honey, but don't get it twisted. :)"
Abraham had the last word as she responded, "4 all who misunderstood: regards to kourtney K.~ I hope she takes her relationship w/her boyfriend more serious 4 their children-takecare."
Leah Remini and Holly Robinson Peete vs. Julie Chen, Sharon Osbourne and Sara Gilbert
Months after Peete and Remini discovered they were not asked back to the CBS daytime show, "The Talk," viewers finally got a few reasons for the departure this week. Though the show never formally addressed the matter leaving fans clueless and confused, Chen, Osbourne and Gilbert talked to Howard Stern Monday to discuss their former co-hosts.
Osbourne told Stern, " Some people don't really know who they are. You have to know who you are when you're in something like this." Peete and Remini claim they didn't get a final decision until days before the second season premiered. Osbourne didn't have much sympathy. "Why should we call them to discuss?" Osbourne told Stern.
Remini had plenty to say on her Twitter where she, as well as Peete, has developed a large group of loyal fans and supporters who fought for answers.
When a viewer asked Remini why she and Peete were fired, she responded on Twitter, "we were fired bc me and holly sucked in comparison to sharon, Julie and Sara (Per them and CBS)." She told another fan, "according to sharon, we (me and holly) are fake, per Julie-didn't listen 2 her and per Sara-CBS didn't like us."
Remini also accuses one of her former co-host's on Twitter (possibly Osbourne) as being disrespectful. "1st she called me "Ghetto", then a "Loser" bc i cared 2 much abt the show, so i dont know wht 2 work on."
Peete also went to her Twitter and responded to some fans. She used the hashtag, #moneycantbuyyouclass and said the whole interview "kinda sucked."
You can listen to the Howard Stern interview here.
Whose side are you on for these feuds? Let us know by commenting below.
Reach writer Mike Vulpo here
Best way to find more great content from Neon Tommy?
Or join our email list below to enjoy the weekly Neon Tommy News Highlights.