California
UC, CSU Tuition Increases: The Causes And Consequences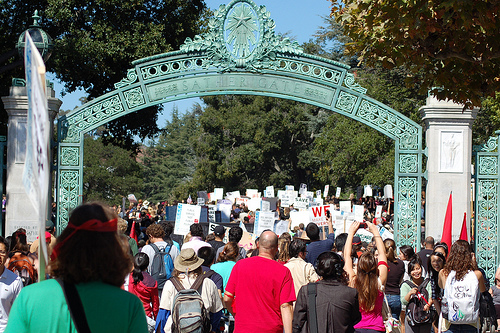 Working two jobs and accepting financial aid and scholarships are just enough to allow Bria Lee to attend a public four-year university in California.
Lee, a sophomore at the University of California, Berkeley, works nearly 20 hours per week to pay for tuition and other fees not covered under the financial aid she receives.
"I believe that what you get out of college will be worth it, but the amount of debt that a college student accumulates makes me second guess this at times," Lee said. "I feel that I can barely afford to be here now without accepting a lot of loans, so raising tuition would be a major struggle for me."
The University of California tuition for the 2011-2012 school year rose nearly 18 percent from last year's tuition, after UC Regents approved in July a 9.6 percent tuition increase on top of the already sanctioned 8 percent hike.
A DIRE BUDGET FOR CALIFORNIA
Dianne Klein, a media specialist for the UC's Office of the President, said the UC tuition hikes can be attributed to the lack of state funding for the UC system, which cut $650 million of the $22.1 billion state budget for public colleges in June.
"The state of California has been systematically de-funding public higher education in California," Klein said. "For the first time, in fact, this year students paid more for education through their tuition and fees than did the state of California."
And the cuts are expected to deepen Tuesday afternoon when the state's finance department announces that another $100 million cut to the UC system has been triggered by lower-than-expected tax revenues. While reserves will cover the hit, the cut is equivalent to a 5.9 percent tuition increase and UC officials plan to consider adopting such an increase next summer if the cut isn't reserved next year.
California Gov. Jerry Brown said in a statement in June "the latest state budget plan is deeply disappointing."
"While we recognize the enormity of the fiscal challenge facing the state, we continue to oppose further cuts and support any efforts that will restore long-term stability to state funding of higher education," Brown said.
 Because of the two increases, the undergraduate tuition for California residents with campus fees is around $13,217 and $36,095 for non-resident undergraduates per year, according to a UC press release.
UC tuition has nearly tripled over the last decade, and the UC's tuition increase represents a trend found by the College Board, a nonprofit membership association representing more than 5,900 American colleges.
CALIFORNIA OUTPACING THE NATION AND PRIVATES
The College Board Advocacy and Policy Center's Trends in College Pricing 2011 report found that California public four-year universities had the highest percentage increase in published in-state tuition and fees in the nation for the 2011-2012 academic year.
The report found the nation's public colleges' average percentage increase surpassed that of private institutions by an average of 2.2 percent for five consecutive years.
Also, tuition and fees for California public four-year universities, both UCs and California State Universities, rose 21 percent from 2010-2011 enrollment-weighted tuition and fees to those of 2011-2012, according to the report.
The report cites the weakened economy and lack of state funding as the reasons for the increases in college tuition and fees for the 2011-2012 academic year.
Kristan Venegas, an expert in higher education and associate professor of clinical education at the University of Southern California's Rossier School of Education, said the economy affects college tuition and enrollment.
"College tuition costs in California have increased because state appropriations to post-secondary education have lessened," Venegas said. "There are tighter enrollments because more unemployed people are returning to school, and the credit crisis has meant that fewer people qualify for private educational loans."
In comparison to the public universities' increase, private four-year nonprofit universities' tuition and fees costs rose 4.5 percent to an average of $28,500 in the nation, according to the College Board's report.
USC's tuition including fees costs about $42,818 for the 2011-2012 academic year, increasing from last year's by about 4.4 percent, according to published information from the USC financial aid office.
USC's tuition is the largest of any California college, increasing annually by 3 to 6 percent.
Since 2006, USC's tuition including campus fees has risen an average of 4.7 percent, with the past three years' percentages increases being the lowest in the school's history.
Slaughter said tuition at private universities continues to go up because the cost of education has risen.
"The universities have to provide significant improvements in their facilities and their instrumentation," he said. "There are significant costs associated with all the regulations that are imposed on the institutions, and these things are all significantly higher than the cost of living index."
MAKING CUTS
UC media specialist Klein said the UC's tuition increase will offset about 26.3 percent of the reduced state funding, with the rest being covered by cost-cutting and revenue-generating actions, such as cutting classes and library hours and laying off employees.
UC President Mark G. Yudof recently proposed an expenditure asking for about $2.8 billion, including a request for an additional $412 million more than what the UC system is currently funded, for the 2012-2013 academic year.
State support for UCs decreased 21.3 percent this year, according to a UC press release.
Klein said tuition hikes for the next academic year have not been set, but if the state provides UCs with the $2.8 billion in funding, then tuition hikes would not occur and UCs will be able to increase enrollment, maintain classes and services and pay for employee benefits.
UC Berkeley senior Nanxi Liu said the tuition increases really hurt her as an out-of-state student, although she works full-time over the summer and receives financial aid and scholarships.
"When I came to Berkeley, I came pretty much having all of my tuition covered by scholarships," Liu said. "During sophomore and junior year, I was scrambling to find additional scholarships to pay for my tuition."
Lee said the budget cuts have placed an extra amount of pressure on her if she wants to graduate in four years.
"There's always a problem with getting into the classes I need," Lee said. "I'm going to take summer school so I can complete (school) in four years because I can't afford to be here much longer."
Despite the tuition hikes, Venegas said California public universities are actually viewed as the most affordable, high-values schools in the nation because of the stronger UC schools.
"Previous national comparison reports like Measuring Up have rated California public schools in the top five for affordability not just because of lower tuition but also a stronger state aid program," Venegas said. "Both of these things matter when thinking about college costs. The increase in California public education feels more and is more drastic because we've been more reasonable than other places for so long."
SAME TALE IN THE CSU SYSTEM
California State University's Board of Trustees voted 9-6 in November to increase the tuition by 9 percent for the 2012-2013 academic year, making this the ninth tuition increase in nine years.
The increase will raise tuition at the 23-campus system by $498, bringing the annual bill to $7,017 including average campus-specific fees.
During the past two fiscal years, CSU's state funding was cut by $650 million, causing tuition to rise by 12 percent last year and enrollment to be slashed by 10,000 students.
"When we initially got the $650 million cut, the CSU campuses cut their budgets substantially," said Liz Chapin, a CSU public affairs assistant. "There's only a few choices the CSU has: either raise the tuition or cut the budget. So since the budget is already cut, we're raising tuition if the state doesn't provide the adequate funding in next year's budget."
CSU is asking the state to restore $333 million for the 2012-2013 fiscal year for campus services, admission rates and employees benefits, according to a CSU press release.
THE OCCUPIERS GET INVOLVED
In response to the various colleges' tuition hikes, the Occupy movement has taken over both UC and Cal State campuses.
Occupy Berkeley participant UC Berkeley sophomore Miranda Landfield said she is frustrated with the tuition hikes and the UC system.
"What once was a public education is becoming more privatized because of the tuition increases," Landfield. "The amount of money that the '1 percent' is getting is increasing, but they still are increasing our tuition even though they're continually better off. The '99 percent' is basically suffering because of economic recession, and people are less able to pay tuition than they were before."
University of California, Los Angeles senior Martin Madriata, who participated in Occupy UCLA, said the tuition hikes are not the solution to the UC's budget shortfalls.
"I feel like there's better ways they (UC administrators) could do it, as in cutting out a lot of public restrictions we have, like the certain number of kids we have to accept from California," Madriata said.
John Simmons, a UCLA senior, did not protest despite opposing the tuition hikes because he said the protests are not effective for eliminating the tuition increases.
"The students think by protests they're going to bring some sort of voice to all, but really it comes from the administration, and whatever they want to do is pretty much going to happen," said Simmons. "Our state is pretty much broke, and there's not much we can do about it."
Higher education expert Slaughter said protests are more common at public rather than private institutions because of the history of state funding for public colleges.
"The reason you see it at UCs, CSU and community colleges is that California for so long essentially operated on a policy of zero tuition, some fees to be sure, but low tuition," Slaughter said. "In the minds of the students, it seems to be a reversal of the policy."
Helena Hamilton, a USC sophomore, said students at private institutions don't usually protest tuition increases because the cost of tuition is already high.
"I think a lot of people at USC already feel they're paying a lot," Hamilton said. "But if you go to public or state schools, then you are trying to save money, so I can see why it seems worse."
USC sophomore Tyler Robinson said he would protest tuition increases if the funds were severely restricting applicants.
"If I felt they were doing something really, really unfair that was really limiting the amount of students or types of students that could enter the school, I wouldn't feel too bad about going out and protesting," Robinson said.
ENROLLMENT INCREASES DESPITE HIGHER COSTS
Although college tuition prices are rising, the College Board's report found the increasing price of college has not deterred students from enrolling.
The report found total post-secondary enrollment increased by 22 percent between 2005-2006 and 2010-2011, with full-time enrollment increasing faster than part-time enrollment.
CSU spokeswoman Chapin said this year's admission rates were slightly lower than last year's because CSU last year, "in light of the budget situation and funding cuts, reduced enrollment to provide a more quality education for students."
Slaughter said enrollment rates are stable and even increasing because of the large demand for education in the state.
"A few years ago we were concerned about whether or not there would be a decline if the tuition went up, but the number of potential students is very, very large in the state so I'm not surprised that the enrollment has not declined," he said.
Higher education expert Venegas agreed with Slaughter and added that steady enrollment rates can also be attributed to schools' recruiting practices of more out-of-state and international students.
"These students are not eligible for in-state tuition discounts or aid, so they are paying much more than a formal resident of California," she said.
SOLUTIONS ARRIVING
Reacting to the increased costs, a couple of ballot initiatives have been proposed to direct more funding toward the public universities. One proposal would impose a 15 percent tax on value of oil and natural gas extracted in California, ban the tax from being passed onto consumers through higher fuel prices and then direct the revenue to education. Another would impose a 10 percent tax and do the same.
If proponents of the measure can gather enough signatures by the spring, the measures would appear on the November 2012 ballot.
On Tuesday, Senate President Pro Tem Darrell Steinberg will propose legislation that would create a system for the use of free or cheap textbooks, at least defraying some of the costs of higher education.
For now, California residents face the question of whether they'll be able to afford a public college system education that was once the envy of the nation.
UC Berkeley sophomore and California native Landfield said if the UC tuition hikes keep progressing at the same rates, then she might not be able to attend UCs schools.
"I'm on financial aid at the university," Landfield said. "If the tuition goes up, there's chances that I wouldn't be able to get the same amount of financial aid, and I might not even be able to go to the university."
Reach reporter Brianne Walker here. Follow her on Twitter.
Best way to find more great content from Neon Tommy?
Or join our email list below to enjoy Neon Tommy News Alerts.