Style
Boutique on Wheels
At first glance, the bright mauve truck parked on the street may seem like just another street food truck probably serving another trendy fusion dish.
But upon closer inspection, the side of the truck reads, "Tin Box of Curious Artifacts- a traveling boutique."
Instead of selling food, this mobile retailer sells a curated selection of vintage clothing and accessories for men and women.
"When people come in and compliment us, we say, 'Our living room looks just like this,' so these are aesthetics we like in general," said Chris Register, co-owner of the Tin Box Boutique, which opened in late September.
Register, who also owns a catering business, handles the accounting and business aspects while his partner of three years, Daniel Robles, who works as a wardrobe stylist, is responsible for the aesthetics and product choices.
"I've always had a sensibility of vintage in my aesthetic, personally and in my designs," said Robles.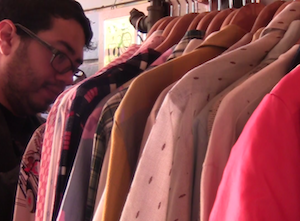 The boutique truck used to be a vehicle for transporting vintage cars, but the fledgling business owners hired their friends and neighbors to help out with the 9-month-long makeover process.
"It feels like we're entering a den on the street with the coolest garage sale finds," said Paul Russell, a visitor to the Atwater Village Farmers Market.
"But at first, it caught my attention because I thought they were packing up the fruits from the farmers market," said Russell.
While a mobile retail truck started out as a playful turn on traditional retail spaces, Register and Robles recognized its potential as an effective business model for tough economic times.
"The food truck craze came about for the same reason— it's expensive to open up a restaurant so let's do it mobile and go where the people are," said Register.
In a blog post for the Harvard Business Review, anthropologist and author of "Chief Culture Officer," Grant McCracken, wrote, ""We love getting speed, motion, and transport involved" in reference to the fad of food trucks in American culture.
"Retail wants to go where people are, and people are moving around, so it makes sense," said McCracken. "The big advantage is the ability to be mobile and make yourself part of the city."
According to Register, owners of brick-and-mortar stores have been welcoming of their mobile competition.
"If you're a brick-and-mortar boutique next to another brick-and-mortar boutique, then we're no more of a threat than your neighbor is and as long as you're friendly and upfront, most people are fine with it," said Register.
But Evita Corby, the owner of a vintage store called Velvet Threads, across from the Atwater Village Farmers Market where the Tin Box truck regularly parks, has a different opinion.
"I'm for free enterprise but they should go to areas where there aren't similar businesses. I don't think it's fair that I pay $2,000 a month, and they set up for free."
"People in trucks are guaranteed foot traffic if they go to an established location, and since they don't pay rent, they can sell things at half price because there's no overhead," said Corby.
But lower overhead does not necessarily lead to higher profits, according to Kathleen R. Allen, a business professor at USC.
"A mobile business is a completely different kind of business than a brick-and-mortar store," said Allen in a phone interview.
"With a permanent store, people know it's there, but with a mobile truck, people have to find it," said Allen. "So, it serves a different crowd."
The Tin Box Boutique owners try to be a consistent presence at farmers markets on the eastside of Los Angeles, from Atwater Village to Silver Lake.
"We wanted to establish ourselves in a community before we were here, there and everywhere," said Register.
According to McCracken, "The virtue of these things is that they don't use marketing. They just show up at the right places with the right people and their presence is the marketing."
The boutique truck is poised to spread as a cheaper retail alternative, but Robles is not possessive of the idea and encourages others to use his concept as a blank slate for their own projects.
"Other people should come up with different concepts— this idea doesn't belong to me," said Robles. "By all means, do it better."
The new business owners eventually want to make enough money from the truck to fully support themselves, but until then, the traveling boutique will be rolling down the streets of Los Angeles trying to entice passerby to come in and satisfy their curiosity.
Reach reporter Tricia Tongco here and follow her on Twitter.