National
Barry Bonds' Verdict: "Almost Laughable" Says Prosecutor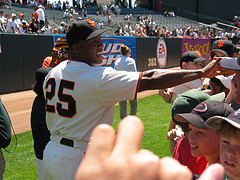 Barry Bonds- baseball's "home run king"- was sentenced by a federal judge in San Francisco Friday to house arrest for obstructing justice during his 2003 testimony about BALCO- Bay Area Laboratory Co-Operative- which was selling banned substances, including steroids, to athletes.
The 47-year-old Giants player was one of two baseball stars on trial this year for performance-enhancing drug use. Former pitch Roger Clemens' trial was stopped due to "inadmissible evidence" and a new trial has been set for Apr. 17, 2012, said the Associated Press.
For Bonds, his sentence included 250 hours of community service with youth-related activities and a $4,000 fine in addition to house arrest, but his lawyers are appealing the conviction. The appeal itself could take 17 months.
Not all were satisfied with the outcome of Bonds' sentence.
"For a man with a 50,000-square-foot home," said U.S. Atty. Matthew A. Parrella to The L.A. Times, home detention was "simply no deterrence." [Parrella] called the probation "a slap on the wrist" and the fine "almost laughable.
The prosecutors had been seeking 15 months in prison for Bonds and said to the AP that the punishment wasn't enough.
Best way to find more great content from Neon Tommy?
---
Or join our email list below to enjoy Neon Tommy News Alerts.