Science+Tech
Apple Explores Greener Pastures, Looks To Replace Batteries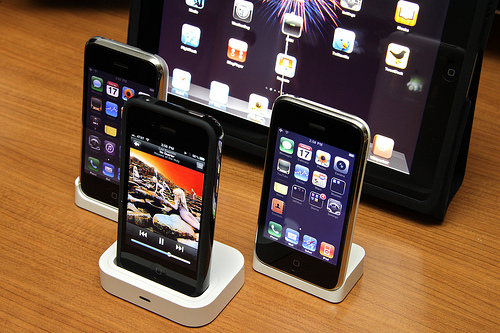 Apple is considering new technology to replace "bulky and heavy" batteries attached to its products. The computer manufacturing giant submitted two documents to the U.S. Patent and Trademark Office proposing the use of hydrogen fuel technology,
according to The Guardian
.
Converting hydrogen and oxygen into water and electrical energy, hydrogen fuel cell technology has been primarily focused toward powering cleaner cars. But Apple hopes replacing batteries, which rely on toxic chemicals, would lengthen product life while producing only water as a byproduct.
Apple also spoke to larger political implications in its proposal. "Our country's continuing reliance on fossil fuels has forced our government to maintain complicated political and military relationships with unstable governments in the Middle East, and has also exposed our coastlines and our citizens to the associated hazards of offshore drilling," the manufacturer said in its recent filings. "These problems have led to an increasing awareness and desire on the part of consumers to promote and use renewable energy sources."
According to the Guardian's report, the submitted plans come after Apple's earlier filings in October, which explored how to maximize power in lighter hydrogen fuel cells. The research appears to be part of a larger trend in the smartphone industry, which has considered clunky and wasteful battery technology something of a "bottleneck."
Reach Catherine here; follow her here.
Best way to find more great content from Neon Tommy?
Or join our email list below to enjoy Neon Tommy News Alerts.