National
Activists Challenge Government Castration Of Nevada's Wild Mustangs
Conservationists and wild-horse activists are suing the United States' government over its plans to castrate hundreds of horses in eastern Nevada, hoping to block the implementation of a precedent-setting plan to regulate wild-horse populations.
Filed by the Western Watersheds Project in conjunction with the American Wild Horse Preservation Campaign and the Cloud Foundation, the lawsuit is a response to the U.S. Bureau of Land Management's decision to capture 200 wild stallions from eastern Nevada, castrate them and then release them to curb population increases, according to the Associated Press. The BLM also plans to remove more than 1,800 wild horses from the Pancake Complex -- an area that includes the Sand Springs West and Pancake Herd Management Areas, Jakes Wash Herd Area and Monte Cristo Wild Horse Territory near Ely, Nevada -- over the next six to 10 years.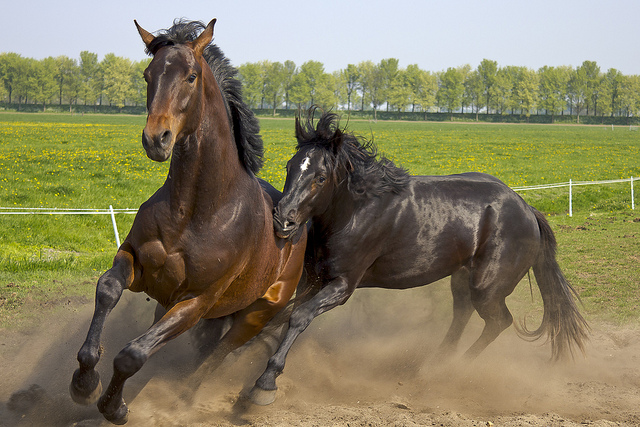 The coalition contents that the BLM is using "scientifically unsound, controversial, untested and radical approaches" to manage the mustangs in the 855,000-acre complex, and that the castration of these animals would violate federal law.
"The BLM has violated the law by failing to analyze impacts of domestic livestock and wild horses," said Jon Marvel, executive director of the Idaho-based Western Watershed Project, to the AP. "I hope this case ends once and for all BLM's illegal bias in favor of cattle and sheep over wild horses and all other native wildlife."
The Las Vegas Review-Journal reports that the BLM is holding more wild horses than the number roaming in 10 Western states -- 41,00 are currently in captivity, mostly in Midwestern pastures, while 33,000 are roaming in the west.
From the Las Vegas Review-Journal:
And the cost to taxpayers is soaring as the BLM expands its welfare agency for aging wild horses. More than half of its entire 2012 wild horse and burro budget is for holding costs alone -- $43.2 million of $75.8 million. And this year's total budget is nearly double just two years ago.
Overall, the BLM has spent at least three-quarters of a billion dollars to manage wild horses and burros in the past 40 years. During that time, the agency has rounded up at least 260,000 animals in an attempt to control where mustangs roam and contend with a runaway reproduction rate that has herds doubling every four to five years.
"After four decades of mismanagement, it's time to draw a line in the sand," said Ginger Kathrens, executive director of the Colorado-based Cloud Foundation, told the AP. "The agency's policy of destroying America's wild horse herds for the benefit of the livestock industry must come to an end."
---
To reach Benjamin Gottlieb, click here.
Follow him on Twitter @benjamin_max.
Best way to find more great content from Neon Tommy?
Or join our email list below to enjoy Neon Tommy News Alerts.