Arts+Culture
Goblins And Gaddafis: West Hollywood Halloween Carnaval 2011
Leave it to the West Hollywood Halloween Carnaval to bring together drag queens, Gaddafi and Kardashian impersonators, and a whole lot of bare bottoms. The block party is known for its outrageous spectacles, and last night was no exception. The city, which has been putting on the parade since 1987, expected 500,000 attendees at this year's festivities.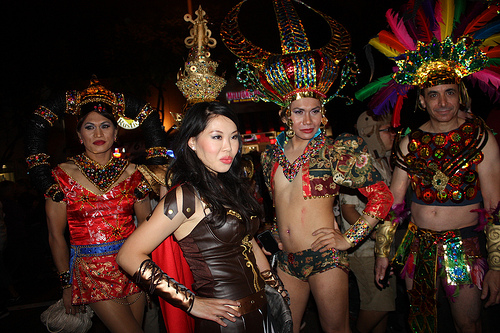 "What started out as a bunch of gay men in drag stumbling in heels on Santa Monica Boulevard in Boystown has become the largest Halloween Carnaval in the world!" said West Hollywood Mayor John J. Duran in a press release.
Pop culture quips and political satires were packed in like moshers at a Dead Kennedys show on the mile-long stretch. Ballerinas sporting Black Swan get-ups and grown men donning boy scout uniforms and dozens of colorful balloons as Russell from Pixar's "Up" were by far the most popular.
On the poltical side of the spectrum, dozens of attendees were nodding to Occupy Wall Street with costumes that repped both the protesters and the bankers they loathe. Some used their costumes to make political statements, while others used the OWS platform for comedic value, like a group that dressed up as Big Bird and friends and occupied Sesame Street.
As for the actual occupiers of Los Angeles, many abandoned their tents outside city hall for the night to hit the parade. They made their presence known with Guy Fawkes masks (an icon popularized by the 2009 flick, "V for Vendetta"). The mask is worn by members of the internet activist hacking collective Anonymous and OWS protestors as a sign of the popular revolution.
Reach reporter Allegra Tepper here.
Follow reporter Allegra Tepper on Twitter.
Best way to find more great content from Neon Tommy?
---
Or join our email list below to enjoy the weekly Neon Tommy News Highlights.