USC Sports
USC Practice Notebook - Trojans Prepare For Washington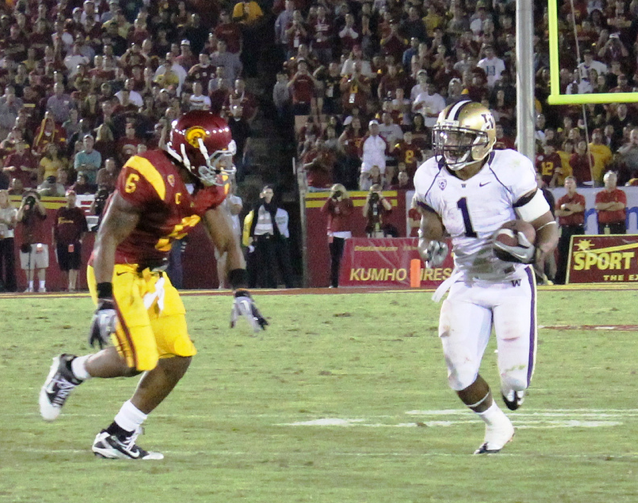 The USC Trojans (7-2) take on former Trojans assistant Steve Sarkisian and his Washington Huskies (6-3) on Saturday at the L.A. Coliseum.
GETTING HEALTHY: Heading in to its 10th game of the season, USC is the healthiest it has been in weeks. The running back position is getting the biggest boost with the return of senior Marc Tyler, as well as true freshman speedster George Farmer. Also, the Trojans may see the return of CB Torin Harris, Lane Kiffin indicated this week. Harris has been out with a shoulder injury and would be a welcome addition back to USC's already thin secondary. Harris will be a game-time decision according to Kiffin.
GALIPPO BENCHED: Lane Kiffin announced this week that senior Chris Galippo has lost is starting position at middle linebacker and would be replaced by true freshman LaMar Dawson. In other LB news, redshirt freshman Dion Bailey has been cleared after suffering a concussion against Stanford and will return to the lineup against Washington.
COACHING BANTER: This week started with a bang when UW defensive coordinator Nick Holt made comments following the Huskies' 34-17 loss Oregon that, "We'll be OK against these guys. I'd rather play USC than Oregon, quite honestly."
For what it's worth, USC put up 484 yards, including 290 rushing, in last year's loss to UW at the Coliseum.
Also, this week, Sarkisian raised a few eyebrows when he said, "If I'm an NFL coach, right now, I would pick Matt Barkley ahead of Andrew Luck."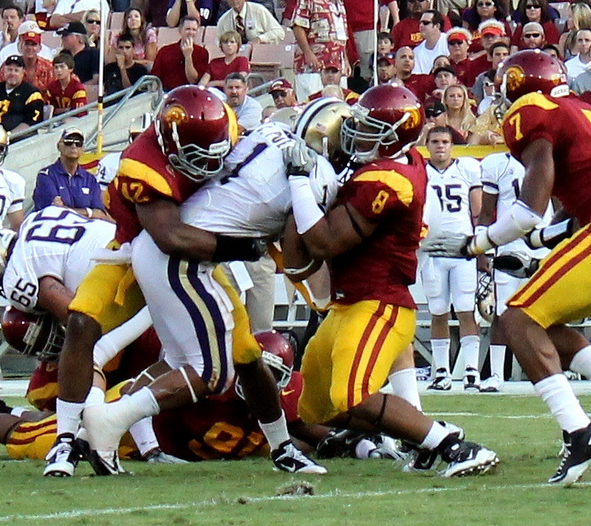 When asked about Sark's comments, Kiffin joked that Sarkisian hadn't been a NFL head coach, and then turned the tables, praising UW running back Chris Polk as the best in the conference. "He's hard to bring down and forces a lot of missed tackles," said Kiffin of Polk. "He's big and physical and really good in the passing game too. He's the complete package."
Kiffin and Sarkisian are longtime friends, and have really added some fun into what is becoming a mini-rivalry.
IN THE TRENCHES: At the beginning of the season there was concern about the youth of the offensive line. Through nine games, however, the Trojans have the allowed the fifth-fewest sacks in the country, and are one of the most efficient units in recent years at USC.
Instead it has been the play of the defensive line that has left something to be desired, and this week both defensive line coach Ed Orgeron and Lane Kiffin addressed it. Kiffin said the biggest area he would like to see the D-Line improve is in generating a pass rush. USC currently sits at 64th in the nation out of 120 teams with 16 sacks.
BARKLEY STAYING FOCUSED: Since the Notre Dame game, the amount of attention surrounding Matt Barkley's decision stay in school or turn pro has increased. After a record-breaking six-touchdown performance against Colorado, the attention is at an all-time high.
Barkley is quick to dismiss questions about his future as he tries to remain focused on the team's final three games of the season.
"We still have three games left, that's a lot of football left," Barkley said. "Come December, I'll talk [about the decision] more."
A video of Barkley's comments this week can be found at the bottom of this story.
------------------
Reach Scott by email, or follow him on Twitter.
Best way to find more great content from Neon Tommy?
Or join our email list below to enjoy the weekly Neon Tommy News Highlights.