Sports
USC Football: Washington Preview and Analysis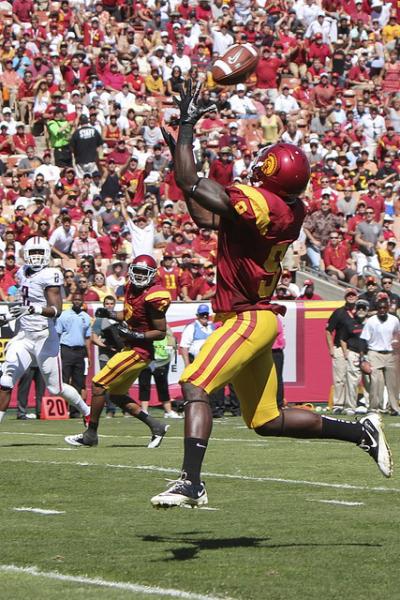 This one is personal.
USC (7-2) is returning to the Coliseum for Homecoming Weekend to host the Washington Huskies (6-3) on Saturday afternoon.
The Trojans flexed some muscle last Friday in Colorado, defeating the Buffaloes 42-17, but the Huskies couldn't keep up with bitter rival Oregon, falling 34-17 to the Ducks.
What to Watch For:
Revenge will definitely be a factor in this matchup. The Huskies have stolen two straight from the Trojans, both on last minute field goals. Remember, this is the same team that USC beat 56-0 in 2008.
And Lane Kiffin will definitely want to even the score with close friend Steve Sarkisian. The two cut their teeth under Pete Carroll and Norm Chow and are a couple of the brightest young offensive minds in college football.
But, don't think for a second their friendship will cause them to ease up at all. In fact, they each probably want this one more because they are so close. Just take a look at all the ridiculous back-and-forth between the two this week.
UW defensive coordinator Nick Holt took it one step further, saying he'd rather face USC's offense than Oregon's. While he's completely right, you can bet Kiffin would love to make Holt rethink that statement.
USC and Washington are battling it out for a number of top recruits, including offensive linemen Josh Garnett and Zach Banner, and cornerback Kevon Seymour. With only three more weeks left in the season, the Trojans need to take advantage of this opportunity to impress prospects while they still can.
It looks like the Huskies are going to bring their weather down to Southern California with them, as it's expected to rain through the weekend. While it shouldn't affect the players that much, I'm sure Ronald Johnson could tell you that it's harder to catch the ball when it's a little wet. Sigh.
When USC is on Offense:
Matt Barkley continued his assault on USC's record books with his six touchdown performance against the Buffs. That success shouldn't change much this week, as UW is last in the Pac-12 in pass defense.
With Oklahoma WR Ryan Broyles sidelined for the rest of the season with a devastating knee injury, Robert Woods has to be considered at least the co-favorite to take home the Biletnikoff Award at the end of the season.
Kiffin has a ton of respect for Woods and would love to see his star sophomore take home the award. Look for him to find creative ways to get Woods the ball as much as possible.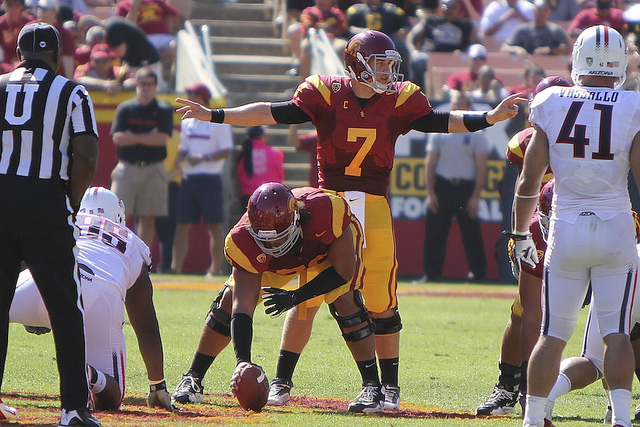 The Huskies' best bet to slow down Woods is corner Desmond Trufant, who has two interceptions on the year. And lurking deep is safety Sean Parker, who also has two picks.
Of course, if the Huskies focus too much on Woods, they are just going to get burned by Marquise Lee, who has turned into one of the best secondary receivers in the country. He should be able to get free pretty consistently in the Washington secondary.
The Trojans offensive line gave up just their fifth sack last week and should keep Barkley pretty clean this week as well. Washington is just ninth in the conference in sacks, and no one on the Huskies has more than two. It does help to have a future top 5 pick protecting your quarterback.
Curtis McNeal wasn't able to establish a new season high for the fourth consecutive week, but he did have another productive game before leaving because of injury. He should be good to go by Saturday, which means the Trojans will continue to be productive on the ground.
And with the return of Marc Tyler from his shoulder injury and the reemergence of D.J. Morgan and Amir Carlisle, USC again has an embarrassment of options to throw at the Huskies.
However, if the Trojans want to successfully run the ball they will want to make sure they block Alemeda Ta'amu, quite possibly the biggest defensive tackle in the Pac-12 and one of its best run stuffers. In fact, they might want to put two blockers on the 6-foot-3, 337 lb. granite wall.
Another anonymous hero for UW has been Cort Dennison. Polk may be the team MVP, but Dennison is the heart and soul of the Huskies. The senior leads the Pac-12 with 81 tackles, and is almost always around the ball.
When Washington is on Offense:
USC's main defensive advantage this week is that they will be playing an offense they are very familiar with. And that Jake Locker isn't around to ruin everything.
The incredible play of sophomore Keith Price has been one of the conference's biggest surprises, but he has started to show his inexperience in recent games against Stanford and Oregon. Heavy pressure appears to be the best way to throw Price off his game.
Washington's offensive line doesn't rate that highly, yielding six sacks to Oregon and 22 on the season. But USC could only muster one sack against Colorado's porous offensive line, so it's not like the Trojans can count on camping out in the backfield.
Nick Perry got his fifth sack last week, and is the most reliable source of pressure up front for the Trojans. DaJohn Harris has missed practice this week with an ankle injury, so the rest of the line may have to pick up the slack.
Since Locker (unfortunately) earned most of the credit for Washington's resurgence, a lot of people hadn't really heard of Chris Polk until this year. It's safe to say they've taken notice.
The one-time USC commit is sixth in the nation in rushing yards with 1,096, averaging over 120 yards a contest. Though Price's production is impressive, Polk remains the most vital player on the offense and the first player that USC must key on if they hope to win the game.
The Trojans had a bit of trouble containing the Buffs rushing attack, and will need a better effort to stop the Huskies. The only relief this week is that Price is not nearly the scrambling threat that Tyler Hansen was a week ago.
Kiffin unexpectedly inserted Lamar Dawson into the starting middle linebacker spot, relegating Chris Galippo to backup duty. Kiffin said it was based on performance, but it seems like the defense as a whole plays better when Galippo is directing traffic.
While Dion Bailey still hasn't passed his concussion test, there is cautious optimism that he may be able to return this week. Despite missing last week's contest he is still third in the conference in tackles.
The Huskies don't have a receiver with stats comparable to Woods or even Lee, but instead spread the wealth around to a number of players, with six totaling over 200 yards receiving on the year.
Jermaine Kearse leads the team in catches (34) and touchdowns (six), while Devin Aguilar has racked up the most receiving yards (461). James Johnson and true freshman Kasen Williams are also frequent targets of Price.
And the fun doesn't stop there. Fellow true freshman Austin Seferian-Jenkins is a huge, athletic tight end, a position which the Trojans have had trouble covering in recent weeks.
With Nickell Robey cementing his status as a top-flight corner in recent weeks, the corner spot opposite him has become even more of a target of opposing offenses.
Tony Burnett got burned repeatedly last week, and Isiah Wiley has had several interceptions slip through his grasp. With the depth of UW's receiving corps, the Trojans need big contributions from both this week.
However, a shred of good news came out this week, as Torin Harris practiced for the first time since injuring his shoulder against ASU. It's a long shot, but if he's ready to go that would be huge for the secondary.
Kiffin believes T.J. McDonald played too hesitantly last week because of his first half suspension. While it's good that he's learning to rein it in a little bit, he wouldn't be the caliber of player he is without that aggressive streak. This week is about finding a good balance.
Prediction:
The Trojans enter the stretch run of their season with a lot to play for. A 10-2 season, though a tall order, is still in play, as is the title of true Pac-12 South champion. That's better than most fans or experts would have predicted at the start of the season.
It's not going to be easy this week against the Huskies. Far worse Washington teams have stunned USC in recent years, and the projected wet conditions will play into their opponents' hands.
However, focus will not be a problem this week. The energy of Homecoming weekend, combined with the sting of last year's loss, should be more than enough to get the Trojan's best effort. And a focused USC team is still better than almost anyone they face.
I expect the Trojans to take this one, beating the Huskies 34-21. USC is simply playing better than U-Dub at this point in the season, and they won't lose that momentum this week.
_________________________
Reach Andrew by email, or follow him on Twitter.
Best way to find more great content from Neon Tommy?
Or join our email list below to enjoy the weekly Neon Tommy News Highlights.