Sports
USC Football Fall Notebook: Trojans' Toughest Challenge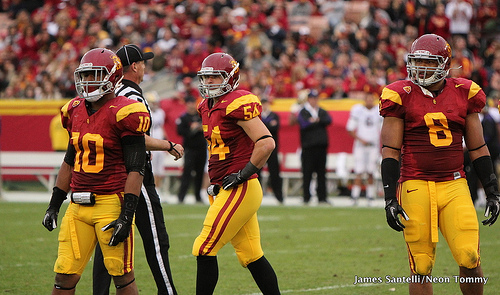 USC may be a 15-pt. underdog going into Saturday's contest with the mighty Oregon Ducks, but head coach Lane Kiffin said he's unfazed.
"I can see why it would be like that...sometimes you take is as motiviation, and also the pressure's off in those types of games," he said. "They're the team that's got a chance to go the national championship still, and we just go up there and have some fun."
Avoiding silly mistakes and limiting Oregon's offensive possesions will be the keys to having a shot at victory, Kiffin said.
SWITCHING SIDES: The Trojans' trip North marks the first time ty will face former recruit DeAnthony Thomas, who famously decommitted from USC in favor of Oregon in February. As a Duck, Thomas has been nothing short of explosive.
"The only guy I've seen like that is Reggie [Bush]," Kiffin said. "The way that he can start and stop, and how fast he can cut, he's really special."
Calling Thomas one of the best players in the country, Kiffin admitted it's been strange to watch the freshman running back on an opponent's film.
"He was one of the first recruits in this class...and talked these kids into coming here," Kiffin explained. "You start to picture how he's going to piece in...and then all of a sudden it went a different way."
LOOK OUT, LAMICHAEL: Stopping LaMichael James won't be any different from any of the other running backs USC's defense has shut down this season, defensive end Nick Perry said.
"He's a great back, but we're just gonna keep doing what we've been doing every week," Perry said. "It doesn't matter who were' playing--we're gonna do a great job at stopping the run."
USC currently ranks eighth in the nation in run defense, after holding Washington Huskies' star Chris Polk to just 36 yards on Saturday.
WOODS WORRIES: After more than 100 yards and two touchdowns at Colorado, receiver Robert Woods had just two catches for five yards on Saturday. But he still feels confident about his performance that day and contributions to the team.
"[Running back] Curtis McNeal had a great game and I feel like I was a part of that, blocking downfield," Woods said. "Sometimes you're not getting the ball as much, but you have to contribute in other places.
INJURY REPORT: DT DaJohn Harris, DT Christian Tupou, and DB Demetrius Wright missed practice. S Jawanza Starling, LB Simione Vekihite, and Woods were limited. Kiffin said he hopes to have them all back for Saturday's game.
_______________________
Reach Kate by email, or follow her on Twitter.
Best way to find more great content from Neon Tommy?
---
Or join our email list below to enjoy the weekly Neon Tommy News Highlights.