Sports
UCLA Coach Rick Neuheisel Fired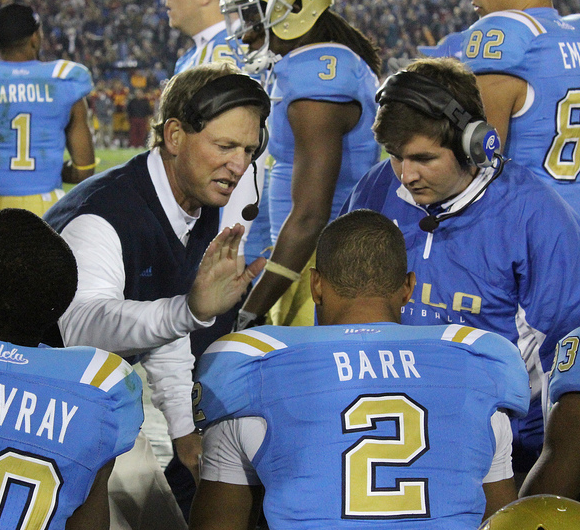 Rick Neuheisel is out as UCLA football coach, the university announced on Monday. Neuheisel, a former quarterback for the Bruins, had a
disappointing
21-28 record during his four-year tenure at his alma mater. Offensive Coordinator and wide receivers coach Mike Johnson will take over as interim coach for the Bruins after the Pac-12 conference title game.
"Decisions such as this one do not come without a great deal of heartache," UCLA Athletic Director Dan Guerrero said in a statement. "However, it is apparent to me that a move was necessary at this time in order to give UCLA the best chance to enjoy the success that we all desire."
Guerrero is expected to hold a press conference at 2:30 p.m., ESPN is reporting.
The firing comes after an embarrassing 50-0 loss to crosstown rivals USC on Saturday. The loss was the worst conference lost in UCLA football history.
"I thanked Dan for the opportunity," Neuheisel said during the Pac-12's promotional teleconference for the title game, less than an hour after he was fired. "I don't need reasons. Certainly when you're UCLA coach, you'd like to play better against USC. When you lose in the fashion we did, that's a difficult pill to swallow."
Neuheisel will coach the team against Oregon in the inaugural Pac-12 championship game on Friday. UCLA (6-6, 5-4 Pac-12) is representing the Pac-12 South in the conference title game because the division champion Trojans are ineligible. UCLA must win against the Ducks in order to be automatically eligible for a bowl game. They could, however, petition for bowl eligibility if they lose.
View the story "UCLA Fires Rick Neuheisel: Reaction from Twitter " on Storify]