California
UC Davis To Investigate Police Use Of Pepper-Spray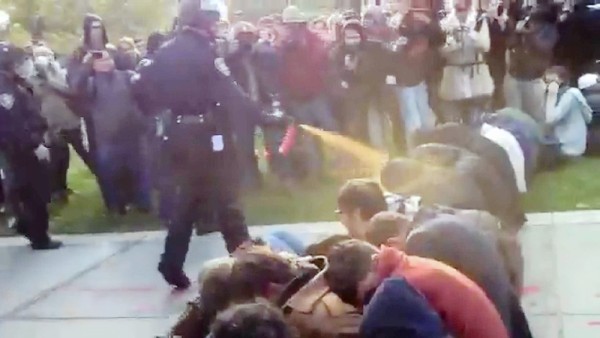 University of California at Davis announced Saturday an investigation will be launched to look into the recent police use of pepper-spray on protesting students.
The campus was at an uproar after videos surfaced on YouTube Friday of police officers pepper-spraying, at point blank, a seemingly calm and non-violent group of protesters at Occupy UC Davis.
An estimated 25 to 50 officers in riot gear were called onto campus after UC Davis Chancellor Linda P.B. Katehi ordered the eviction of Occupy protestors citing the school's no camping ordinance ABC News reported.
Once officers began removing tents from the area, several students linked arms to avoid being arrested. When officers found themselves trapped in encircled by student protestors, they acted to contain the situation according to the UC Davis Police Chief, Annentte Spicuzza.
Senate President pro Tempore Darrell Steinberg issued the following statement following a Friday incident of police using pepper spray against protestors at U.C. Davis:

"On its face, this is an outrageous action for police to methodically pepper spray passive demonstrators who were exercising their right to peacefully protest at U.C. Davis. Chancellor Katehi needs to immediately investigate, publicly explain how this could happen and ensure that those responsible are held accountable."
From ABC News:
"There was no way out of that circle," Spicuzza told the Associated Press. "They were cutting the officers off from their support. It's a very volatile situation."
Facing calls for resignation from faulty members and students after the fact, Katehi showed remorse for police actions calling it "unacceptable."
From CNN:
"Yesterday was not a day that would make anyone on our campus proud; indeed the events of the day need to guide us forward as we try to make our campus a better place of inquiry, debate, and even dissent," Chancellor Linda P.B. Katehi said in a statement.
Despite criticism, Katehi maintains she followed school policy in dealing with the protestors and will not resign.
A group made of both faculty members, staff and students will present a formal report within 90 days Katehi said.
Best way to find more great content from Neon Tommy?
Or join our email list below to enjoy the weekly Neon Tommy News Highlights.