National
Tom Corbett: Pennsylvania Needs To Change Its Law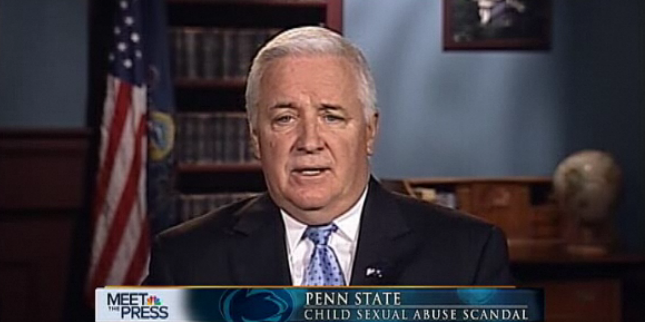 Pennsylvania Governor Tom Corbett said the law "absolutely" needs to be changed in his state to make sure reports of sexual abuse is properly notified to government authorities on NBC's "Meet the Press" Sunday.
The governor's statement comes after the Penn State scandal of sexual abuse brought up allegations of coverup by Penn State officials.
According to grand jury reports, Penn State officials were notified of sexual misconduct by Jerry Sandusky, former Penn State defensive coordinator, from as early as 2002. Since allegations surfaced, questions were brought up of why it took so long for any action to be taken.
By law, reports of sexual abuse--as in the case of Jerry Sandusky--are only required to be notified to the head of the department of the individual in Pennsylvania.
Host David Gregory pressed Corbett why more had not been done by the school staff.
Mike McQueary, a graduate assistant coach, testified to the grand jury of seeing Sandusky sodomize a young boy in the locker room of the school, but did nothing to stop it from happening at the scene. Instead, McQueary approached the school meanwhile keeping the information from the police.
Corbett agreed McQueary's actions were minimal at best.
Mike McQueary "met the minimum obligation of reporting it up, but did not, in my opinion, meet a moral obligation that all of us would have," Corbett said.
Gregory also brought up the fact that the only person notified outside of the school at the time of the 2002 event was the lawyer for the charity organization who had previously served as the lawyer for Penn State. No complete response was given my Corbett.
Also mentioned was the question of Penn State as a sports organization and whether they should be allowed to join in the bowl games. Corbett responded by the saying the school administrators should look into making that decision.
Though not officially stated, Corbett said a bill might be passed from now until the end of this year to change the Pennslyvania state law for reporting sexual misconduct in schools.
Visit msnbc.com for breaking news, world news, and news about the economy
Best way to find more great content from Neon Tommy?
Or join our email list below to enjoy the weekly Neon Tommy News Highlights.