Theater and Dance
Theater Review: "Next Fall" At The Geffen Playhouse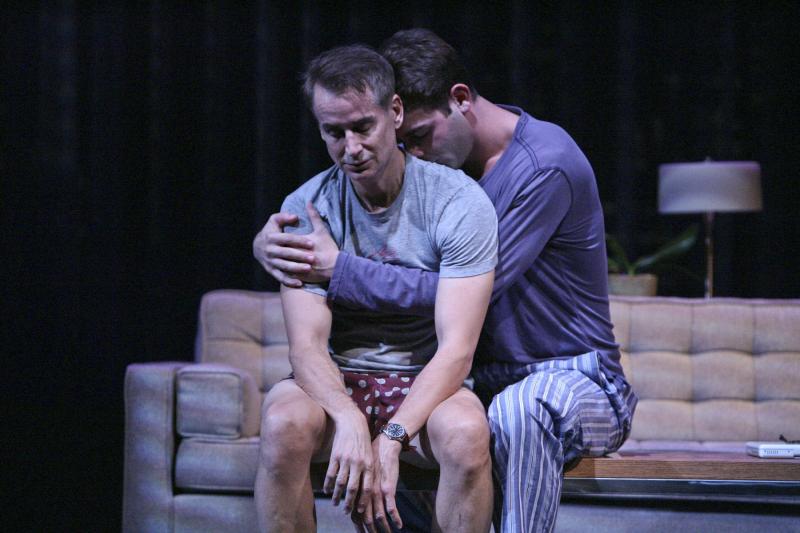 The word "catharsis," derived from the Greek, is defined in the New Oxford American Dictionary as "the process of releasing, and thereby providing relief from, strong or repressed emotions." As Aristotle noted in his "Poetics," theater has long been a source of catharsis for the audience. Few contemporary plays better represent this process than Geoffrey Nauffts' "Next Fall," now playing at the Geffen Playhouse in Westwood.
"Next Fall" focuses on a gay couple who are afflicted by a great tragedy. The play flashes back to trace their relationship, from the sweetest moments of budding love to the pitfalls of deep ideological idiosyncrasies. One of the main challenges the couple faces is the fact that Luke (James Wolk) has yet to reveal his sexual orientation to his homophobic father. Adam (Nauffts) and Luke's friends and family flit in and out of their lives to help them deal with (and possibly even incite) various crises.
This is the west coast premiere of the play, which originated off-Broadway in 2009 and then briefly transferred to Broadway in 2010, where it was nominated for the Best Play and Best Direction of a Play Tony Awards. This production, which is directed by Sheryl Kaller (who has directed it since its off-Broadway inception), is an almost-exact replica of the Broadway production, including, most obviously, the set (by Wilson Chin) and lighting (by Jeff Croiter). Even the costumes (by Kate Bergh) were reminiscent of the New York version of the play. At first glance, the only major change to this production is the cast.
But what a cast! The Broadway cast was fantastic, and this cast is great, too, in its own different way. Nauffts, the playwright, appears here as one of the protagonists, Adam. Nauffts clearly understands Adam on every level — after all, he did write him. Adam uses humor to deal with uncomfortable situations, which can be tough to pull off; will the joke fall flat and make the would-be comedian come off as an insensitive jerk, or will it elicit a few chuckles?
Luckily, both Nauffts and his New York predecessor, Patrick Breen, carry it off without a hitch, humanizing Adam and making him lovable. Wolk is equally lovable as Adam's partner, Luke, while Betsy Brandt is charming as their quirky mutual friend, Holly.
Unfortunately, it takes the cast a while to settle into a nice groove, and most of the first scene is lost and seems inconsequential, an unfortunate consequence given the exposition provided in that scene. Once they hit their stride, though, the play takes on a whole new life, infecting the audience with joy and despair in alternate turns.
Speaking to the play itself, Nauffts does a credible job of showcasing humans as humans — not at our best or at our worst, just as humans, with all the pitfalls and pleasures that entails. "Next Fall" seizes onto the idea of carpe diem and hurls it at the audience. While this could get tiring after a while, it happens in such an affecting way that the message almost becomes secondary to the visceral experience of the play.
"Next Fall" essentially does what theater is intended to do — it makes the audience feel emotions so intensely that it almost becomes unbearable, but all the while carries a moral message to the audience. It is up to each individual to heed the message or ignore it, but it is conveyed so strongly that no matter what, the audience has been granted a new perspective on life.
Reach Katie here.
Best way to find more great content from Neon Tommy?
---
Or join our email list below to enjoy Neon Tommy News Alerts.