Food
Thanksgiving Leftovers: Three Dishes To Relive Turkey Day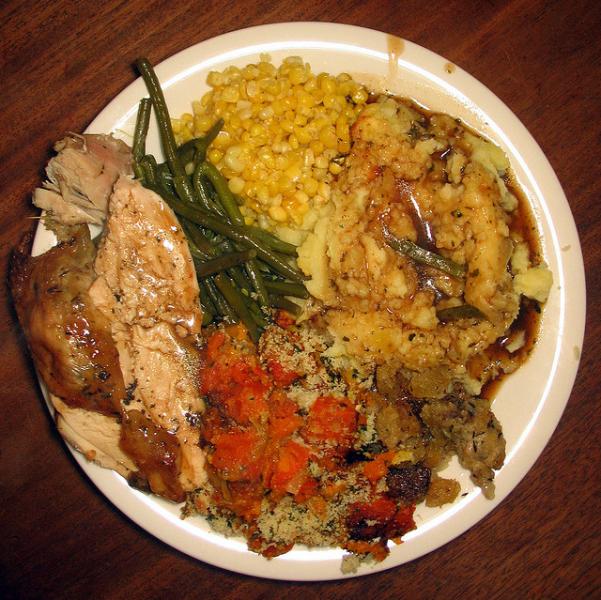 Let's face it: leftovers are just…blah. Sure, the turkey was great at Thanksgiving, but it's nowhere near as good the next day, and it just isn't the same to eat cranberries and stuffing the Monday after. But, at the same time, Thanksgiving is one of the best meals of the year, and it would certainly be nice to enjoy it again.
Of course, it doesn't have to be that way. With a little creativity, you can reuse your entire Thanksgiving feast and enjoy it in new and unexpected ways.
Chili Turkey Wraps
(recipe from Sunset Magazine)
Ingredients:
1 package (8 oz) nonfat cream cheese
3-4 tablespoons tomato-based chili sauce
4 chili-flavor or plain flour tortillas (about 10 in.), at room temperature
2 cups finely slivered romaine lettuce
3-4 cups skinned, shredded cooked turkey
½ cup thinly sliced green onions
¼ cup chopped fresh cilantro
1 can sliced ripe olives, drained
Preparation:
Smoothly mix cream cheese with chili sauce, to taste.
Spread ¼ of the cheese mixture evenly onto 1 side of each tortilla.
Down the center of each tortilla, spoon ¼ of the lettuce, turkey, onions, cilantro, and olives.
Roll tortilla snugly to enclose filling, then cut each roll in half. If desired, stand rolls upright on flat end.
Makes 4 servings
***********************
Paula's Potato Croquettes
(recipe by Paula Deen for Food Network)
Ingredients:
2 tablespoons milk
Salt
½ teaspoon pepper
½ teaspoon chopped green onion
2 egg yolks, beaten
3 tablespoons all-purpose flower
4 cups mashed potatoes
1 egg, beaten
Sifted dry bread crumbs
Peanut oil, enough to fill pan ½ inch
Preparation:
Add milk, salt, pepper, chopped onion, beaten egg yolks and flour to mashed potatoes.
Chill and then shape using an ice cream scoop.
Dip in the beaten egg, then roll through bread crumbs.
Fry each croquette in shallow oil until brown on all sides. Cook in small batches, giving each croquette at least two inches of space around it to not overcrowd the pan. This prevents the croquettes from crumbling while frying.
Makes 15 croquettes
*************
Pumpkin Parfaits
(recipe from Food Network)
Ingredients:
2 cups pumpkin pie filling (scooped from cooked pie)
2 cups vanilla ice cream or frozen yogurt, softened
8 tablespoons whipped cream or whipped topping
4 tablespoons candied walnuts or pecans
Preparation:
Spoon ¼ cup of pumpkin into 4 tall glasses.
Top with ¼ cup of ice cream or frozen yogurt.
Repeat layers of pumpkin and ice cream. Top with whipped cream and candied nuts.
Makes 4 servings
Reach Victoria here.
Best way to find more great content from Neon Tommy?
Or join our email list below to enjoy Neon Tommy News Alerts.