National
Sandusky Says He Showered With Boys, Denies Any Wrongdoing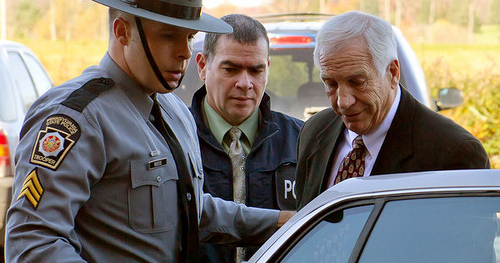 Ex-Penn State defensive coordinator Jerry Sandusky admitted he engaged in "horseplay" while showering with boys but insisted that he is innocent of the child sex charges he now faces.
Sandusky, speaking in an interview with NBC's Bob Costas scheduled to air on Monday night at 10 p.m., said he is not a pedophile.
"I could say I have done some of those things," he said. "I have horsed around with kids I have showered (with) after workouts. I have hugged them, and I have touched their legs without intent of sexual contact."
Sandusky, arrested on Nov. 5, was charged with 40 counts of sexually abusing at least eight boys over a 15-year period. The fallout from his alleged abuse and arrest has taken a toll on the university. Head coach Joe Paterno and university president Graham Spanier were fired last week for not reporting the alleged incidents of abuse to law enforcement authorities. The school's athletic director and a vice president each face perjury charges for allegedly lying to the grand jury.
Mike McQueary, the graduate assistant (now assistant coach) who, according to the grand jury report, saw Sandusky having sex with a boy in a Penn State shower spoke out Monday in an email sent to former teammates. In the email McQueary said "the truth is not out there fully. I didn't just turn and run…I made sure it stopped." Many have called for McQueary to be fired with some believing he did not do enough after witnessing the alleged rape in 2002. McQueary was placed on administrative leave by the university last Friday.
The controversy does not end with Penn State. The judge who granted Sandusky a bail amount of $100,000 is a volunteer with Second Mile, the charity Sandusky founded.
Best way to find more great content from Neon Tommy?
Or join our email list below to enjoy Neon Tommy News Alerts.