National
Sandusky Accuser Will Testify To Sex Abuse, Lawyer Says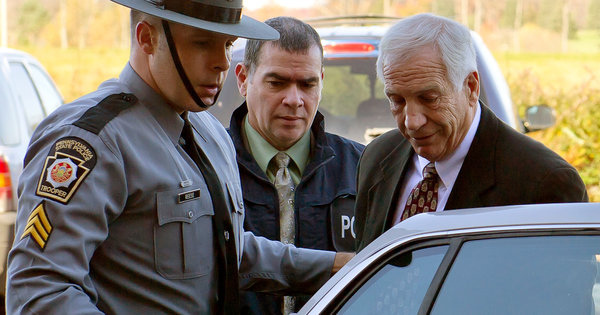 An attorney for one of the alleged victims in the Penn State case said his client will pursue sexual assault charges and will testify against Sandusky,
The New York Times
reported Wednesday.
The lawyer, Ben Andreozzi, told the NYT that Sandusky's recent comments have caused victims to be more motivated to testify against him.
"Mr. Sandusky suggested in some of his comments about the victims that maybe people were backing off," Andreozzi said. "My client heard that and has dug in his heels. He is feeling more comfortable about going through with this. The comments maybe backfired."
Andreozzi said his client met Sandusky through Sandusky's charity for at-risk children, The Second Mile. He said his client, now in his 20s, was assaulted numerous times.
According to ESPN, a new judge was assigned to the case Wednesday after it was discovered the previous judge hearing the case, Centre County District Judge Leslie Dutchcot, donated money to The Second Mile.
Sandusky is accused of sexually abusing eight boys, some on Penn State's campus, over a span of 15 years, the Associated Press reported.
"I am appalled by the fact that Mr. Sandusky has elected to re-victimize these young men at a time when they should be healing," Andreozzi said in a statement, the AP reported. "[My client] fully intends to testify that he was severely sexually assaulted by Mr. Sandusky."
Sandusky's lawyer, Joe Amendola, appeared on NBC's "Rock Center" on Monday night, according to the AP.
"We anticipate we're going to have at least several of those kids come forward and say, 'This never happened to me. This is me. This is the allegation. It never occurred,'" Amendola said.
Sandusky appeared on the show by phone. He said he had showered with boys but did not molest them.
---------
Reach executive producer Agnus-Dei Farrant here.
Best way to find more great content from Neon Tommy?
---
Or join our email list below to enjoy Neon Tommy News Alerts.