Nation and World
Romney, Gingrich Get Bump In Polls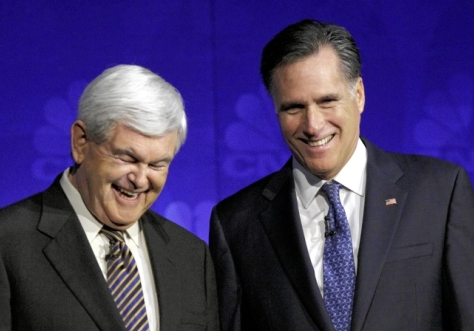 GOP candidates Mitt Romney and Newt Gingrich benefitted from the mistakes of their rivals this week, according to a new
Wall St. Journal/NBC News poll.
The poll was conducted after two new accusers leveled sexual harassment claims against Herman Cain. It was also conducted after Texas Governor Rick Perry's memory lapse during Wednesday's debate.
Romney won 32 percent of support, up from 27 percent earlier this month. Gingrich came in second at 22 percent.
When asked about which candidate had the personal characteristics to qualify them to be president, 50 percent of respondents supported Romney while 44 percent favored Gingrich.
The sexual harassment claims are taking a toll on Cain's numbers. Of those polled, 20 percent believed the charges are of great concern, a figure which doubled in a week. A quarter of those polled believed the accusations to be true.
Perry took the biggest hit in this poll, however. Only 4 percent said they support Perry, down from 8 percent.
Cain and Perry are suffering from "self-inflicted wounds" according to the NY Daily News.
Romney and Gingrich both pledged they would take the country to war to stop Iran from getting nuclear weapons at Saturday night's debate.
View the story "Follow opinion about the candidates:" on Storify]
Best way to find more great content from Neon Tommy?
Or join our email list below to enjoy Neon Tommy News Alerts.