Sports
Rick Neuheisel's Failures At UCLA All Come Back To Offense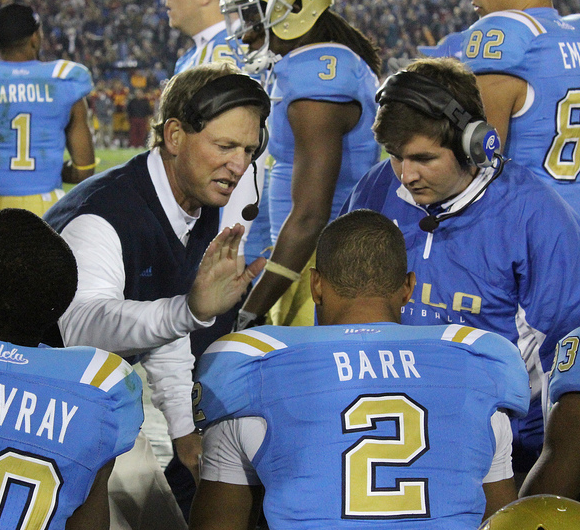 To the surprise of no one, Rick Neuheisel was fired today as head coach of the UCLA football team. He will remain to coach the team for the Bruins' Pac-12 Championship Game against Oregon on Friday.
For a coaching era that was spearheaded by the program's desire to finally even the playing field with rival USC, it was an unmitigated failure.
GREAT EXPECTATIONS
Neuheisel became coach at UCLA in 2008, with a massive PR campaign from the school including an advertisement in the Los Angeles Times claiming that USC's "football monopoly" was over. His image as a former UCLA quarterback, coupled with several strong recruiting classes, only gave hope to the legions of fans that had endured the mediocrity of the Karl Dorrell era.
In addition, Neuheisel brought in what was at the time a home run of hire in offensive coordinator Norm Chow. The architect of USC's record-setting offenses during the mid-2000's was expected to do the same to UCLA, which had suffered offensively for years.
With all of these factors in place, how could Neuheisel have failed so badly? A coach of his acumen should have been able to revive UCLA and make the crosstown rivalry with USC competitive once again. He didn't, though, and his failure ultimately came down to the most important position in football: quarterback.
QB TROUBLES
In his first season, Neuheisel's starter Kevin Craft threw 20 interceptions on the year while leading the Bruins to a 4-8 record. While Craft was not a Neuheisel recruit, he was all that there was to work with at the time, so the outcome was somewhat understandable. In subsequent years under Kevin Prince and Richard Brehaut, however, the offense failed to show any progress. Despite being under the tutelage of Neuheisel for three years, neither of these highly-touted quarterbacks has shown much in the way of improved play. This is an indictment on the coaching staff.
O-LINE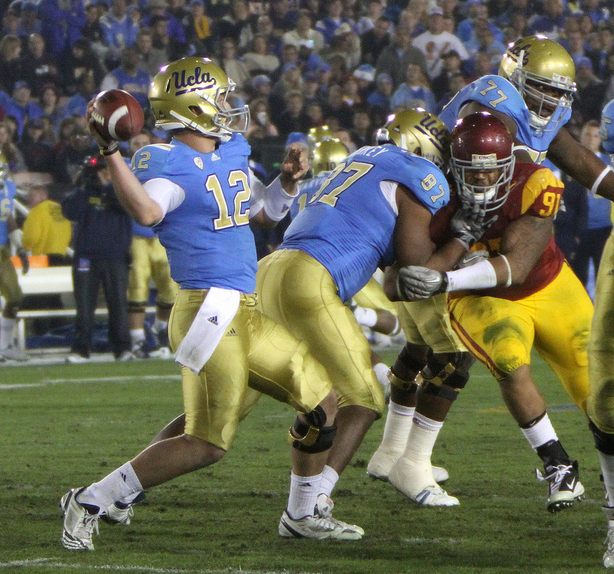 It could be argued that the play of the offensive line was the second-largest contributor to Neuheisel's failures on the field. Each season, the line was beset by myriad injuries, and there was no year in which at least one projected starter was lost. Combined with less-than-stellar recruiting on the line, and perhaps the most important position group other than quarterback set back the team year after year.
With all of these on-field issues, it's little wonder why UCLA underperformed spectacularly under Neuheisel's watch. It is a surprise that he will still coach the team against Oregon on Friday, his last as the head coach. UCLA is currently projected as 30-point underdog, so it would seem logical to start the post-Neuheisel era as soon as possible.
In the unlikely event that UCLA were to pull of an upset over Oregon, it would be prudent for athletic director Dan Guerrero to stick with his decision to move in a new direction with the football program. A win would be seen as nothing more than a fluke, given how inconsistent Neuheisel's teams have been.
Even with massive sanctions against USC, UCLA has not managed to make a serious dent in the Trojans' recruiting prowess and has fallen further behind in the rivalry than ever before, proof that the program has begun to stagnate and is in need of fresh blood.
It is debatable who this new leader will be, but given how poorly Guerrero's last two hires have gone, it would seem that he needs to hire a big name if he wants to keep his own job.
---------------
Reach Daniel here and follow him on Twitter.
Best way to find more great content from Neon Tommy?
Or join our email list below to enjoy the weekly Neon Tommy News Highlights.