National
Republican Debate In South Carolina: A Preview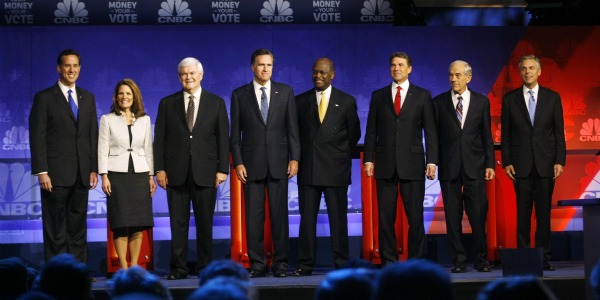 The tenth debate of the unpredictable Republican campaign will take place Saturday night at Wofford College in South Carolina.
CBS News, The National Journal and the South Carolina Republican Primary are the sponsors for the event. The main focus in tonight's debate will be foreign policy and national security, two crucial topics that have taken a back seat to economic issues and jobs, jobs, jobs.
Despite candidate Rick Perry's statement Friday insisting he does not have to win the South Carolina primary in order to win the Republican nomination, most candidates agree this debate will be important in a race still wide-open.
The candidates at tonight's debate have a wide range of opinions on foreign policy. According to The Atlantic:
The candidates show varying degrees of military interventionism: Jon Huntsman and Ron Paul want to get the U.S. out of Afghanistan quickly; Michele Bachmann was a forceful opponent of U.S. intervention in Libya, a prospect Newt Gingrich was in favor of before he was against it. Then there's the issue of China, which Mitt Romney has made a central plank of his economic plan, while Huntsman, the former Chinese ambassador, has accused him of wanting to start a trade war.
Some wish the debate wouldn't air on Saturday better known as college game day. As CNN pointed out, "South Carolinians worship at the church of college football on Saturdays in the fall." Nonetheless South Carolina's primary is scheduled for January 21, 2012, the third contest of the GOP primary race.
To watch the debate online, click here.
Reach writer Mike Vulpo here
Best way to find more great content from Neon Tommy?
Or join our email list below to enjoy the weekly Neon Tommy News Highlights.