Arts+Culture
Recycled Art Speaks Volumes In Art Community
When objects become old, used or obsolete, it is our nature to toss them aside as garbage. However, French artist Elise Morin and architect Clémence Eliard as well as Finnish artist Miina Äkkijyrkkä are giving new artistic life to these discarded items.
Helsinki based Miina Äkkijyrkkä's metal and bronze sculptures reflect the small rural life she experienced dairy farming in Finland. She creates massive metal sculptures of cows using various metals.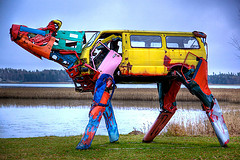 But in her most recent project, Äkkijyrkkä purchased old cars from dealers around Finland and uses the brightly colored scraps to create her pieces. The monstrous sculptures breathe new life into otherwise unwanted objects, and have gained Äkkijyrkkä fame for her controversial sculpting technique.
Meanwhile in France, Elise Morin and Clémence Eliard had a similar idea. In their city exhibit, which they entitled "WasteLandscape," Morin and Eliard worked hand in hand to create a 500 square meter "wasteland" from 65,000 collected or unsold CDs reminiscent of a similar project done by UK designer Bruce Marino a year before. Eliard and Morin sorted the discs and hand sewn together over inflatable dunes, giving the work a sense of endlessness.
The landscape was placed in Paris's "Halle d'Aubervilliers" in CENTRQUARTE from the 21st of July to the 10th of September. The purpose of the exhibit was to raise consciousness about environmental problems through culture and art, giving an alternative mode to production.
The designs of Morin, Eliard and Äkkijyrkkä are part of a global trend by artists pushing to raise awareness about environmentalism through their work, and doing so with the very materials they work with. Large city exhibits like these have drawn attention not only to their work, but also to the meaning behind it, giving a voice to their art.
Reach writer Sam Katzman here
Best way to find more great content from Neon Tommy?
Or join our email list below to enjoy the weekly Neon Tommy News Highlights.