Entertainment News
"Real Housewives of Atlanta" Season Premiere Recap: "I'll Stab You In The Front!"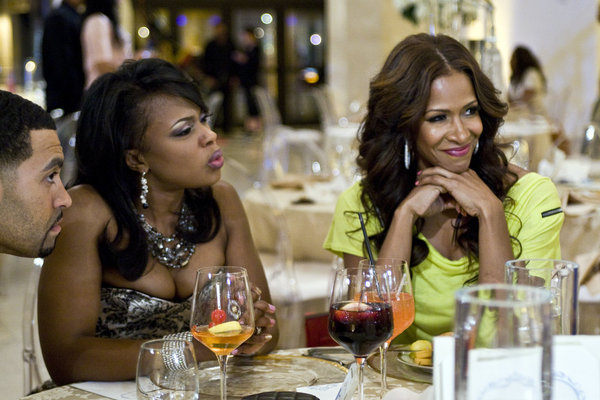 It seems as if all's quiet and everyone's doing pretty well since we left the housewives last season. We join an extremely pregnant Kim and her newly engaged beau, eight years her junior defensive end for the Atlanta Falcons,
Kroy Beirmann
, together for the first time since Cynthia's wedding.
Kim Zolciak has officially ditched the illustrious Big Poppa, aka multi-millionaire Lee Najjar (and yes, he is still married to his wife) and all of the furniture he gave her, saying she "sold all of the crap" from their relationship and "kept all of the good stuff". Kroy and Kim, along with Kim's two children from a previous marriage, are moving into a bigger house to accommodate their sprawling family. It looks like Kim has finally found lasting love.
NeNe takes her oldest son Bryce to buy another car, after crashing his first in an accident a few months ago. Nene flirts with the dealership owner now that she's single. NeNe's stint on this past season of "Celebrity Apprentice" is apparent, from her new ability to pay for a brand new car in cash up front, to her bartering skills, allowing her to get a pretty discount on the deal, noting that after all, "Mr. Trump" taught her that "everything is negotiable".
We join Sheree as she meets Lawrence in the studio as he records his first album. After listening to the lyrics to his first single, Lawrence asks Sheree about her current work endeavors. Sheree complains that NeNe went behind her back to get more money from Tyrone, the promoter of one of her events. Lawrence offers to be the mediator between the two should they meet, but Sheree insists that the two women can conduct themselves in a "grown-up" manner.
Cynthia meets up with fashion icon Miss J himself to talk about her future plans for turning the ATL into the new fashion capital of America. Maybe not America, but at least the South. Cynthia talks about her next big project: opening up a modeling school in hopes to give up and coming models the kind of guidance that coaches like Miss J gave to her coming up in the business. Miss J's words of advice? "Look for quality and not quantity".
Phaedra's great-aunt has passed away, so she steps up to coordinate the funeral. She meets her mother and cousins at the Willie Watkins Funeral Home to help them with the arrangements. Apparently funerals and the funeral home business are some kind of serious in the South, with Mr. Watkins, according to Phaedra, having "more tricks than a magician" when it comes to burying people, including carriages and music playing hearses.
Kandi is still, well, obsessed with sex, as her adult toy business idea that first emerged on her online web-show, Kandi Koated Nights, has finally come to surface. Kandi has big plans for her "Bedroom Kandi" adult toy line, complete with a specific toy that, put as politely as possible, syncs with the users iTunes library when in use. According to Miss Burruss, the venture seems to be highly profitable, as the adult toy industry is extremely lucrative at the moment.
Kim is now 6 weeks away from her due date, and with Kroy away, is also using every member of her household to her advantage, including beckoning her assistant Sweetie (who NeNe accused of being Kim's slave last season) to bring her jalapeno baked ziti on a plate encrusted with real gold.
Tensions were high even before NeNe and Sheree exchanged hellos at their meeting at the Grape wine bar in Atlantic Station. Frankly, NeNe was beyond outraged with Sheree's accusations of her allegedly pushing Sheree out of a personal appearance in Philadelphia. "How am I taking money out of your damn pockets when I can put something in there? I'm sure not trying to take none out!" she tells the Bravo cameras.
At the start of the meeting, NeNe states, "I have no desire to go out of character with you," she said. "I personally don't think it's worth it. What I've heard you saying: I've taken money out of your pocket. You should explain it. I don't have a problem. I think you do."
Sheree says Tyrone the promoter told her that NeNe tried to edge her out of the appearance deal, adding that, "Black women, this is the problem. Nobody wants to see someone else's success. Everyone is clawing and taking people down". Opting for a generalization didn't do much to calm NeNe's nerves, and didn't do much to help Sheree's case either, seeing as throughout the episode one can infer that her singing and acting career hasn't really gotten her anywhere since last season, leading one to believe that she's been living solely off money being made from her time on "RHOA." And from what we've learned this episode, one can also infer that NeNe is making bank via appearances and her "Apprentice" fame.
Next, Tyrone himself is on speakerphone with Sheree and NeNe. Low and behold, he's on Sheree's side. NeNe becomes enraged at the fact that Sheree is choosing to believe him over her, given their long-term friendship. NeNe cuts back, "While you're running your mouth with him, I was running to the bank to deposit a Trump check. Donald Trump!"
NeNe also adds, "You are losing houses and cars!" referencing Sheree's Bentley getting repossessed and losing her home over the past couple of years after her divorce with NFL star Bob Whitfield.
Sheree fires back, attacking NeNe's former appearance pre-fame, reminding her of her old rotting teeth (now fixed, at a price of $50,000 according to Leakes later in the argument) and how she herself had a car repossessed years ago in a Home Depot parking lot.
If the goal of the meeting was to keep things classy, NeNe won hands down, walking away from the altercation before things got physical. After all, if you have to yell that you're "too classy to whoop some butt in a restaurant" (Sheree), you probably lose that battle by default.
NeNe turns to her only true friend, Cynthia. She reminds NeNe of Sheree's evilness and mean spirit, and how naturally she's just jealous of the high cloud NeNe's been riding as of lately as a newly single, newly financially independent woman.
NeNe is most upset that Sheree never gave her the benefit of the doubt and didn't want to believe her. Keeping in line with the "Real Housewives" spirit, jealousy and evil will prevail in every fight.
Although NeNe is very upset post-fight, it takes her .06 seconds to turn back to her usual self, saying that in addition to continuing to follow her dreams, "I won't stab you in the back, I'll stab you in the chest".
Scroll down for a clip of the fallout.
Reach reporter Shakyra Moore here or follow her on Twitter.
Best way to find more great content from Neon Tommy?
Or join our email list below to enjoy the weekly Neon Tommy News Highlights.