National
Penn State Planning Joe Paterno's Exit, New York Times Reports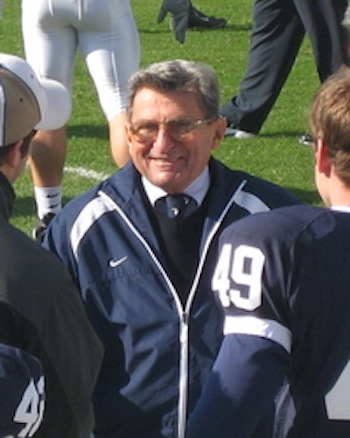 It's only a matter of time — "days or weeks," reports the New York Times — when Joe Paterno's reign as football coach at Penn State will end.
According to the New York Times, Paterno — the winningest coach in college football history at the top level — will not coach next season in the wake of a sex-abuse scandal involving his former defensive coordinator.
The paper cites "two people briefed on conversations among the university's top officials."
The New York Times reports:
"The board of trustees has yet to determine the precise timing of Paterno's exit, but it is clear that the man who has more victories than any other coach at college football's top level and who made Penn State a prestigious national brand will not survive to coach another season. Discussions about how to manage his departure have begun, according to the two people."
A press conference involving Paterno was hastily canceled Tuesday by the university.
Jerry Sandusky has been charged with sexually abusing eight boys during his tenure at Penn State; one such incident of a young boy in 2002 was reported to Paterno but he failed to involve the police.
In addition, the school's senior vice president for finance and business, Gary Schultz, and the athletic director, Tim Curley, have been charged with perjury and failure to report knowledge of the allegations.
Paterno, 84, has coached 46 seasons at the school, and has won two national championships.
Best way to find more great content from Neon Tommy?
---
Or join our email list below to enjoy the weekly Neon Tommy News Highlights.