National
Penn State Names Committee To Investigate Handling of Abuse Claims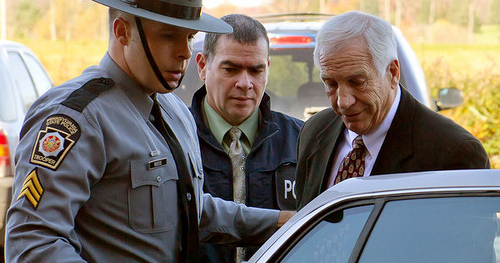 The board of trustees at Penn State announced on Friday the creation of a special committee to investigate the child sex abuse scandal that has plagued the university.
The CEO of Merck & Co., and Penn State trustee, Ken Frazier will lead the investigation. Frazier addressed the board, saying the investigation will be "rigorous, objective and impartial."
At the center of the scandal is the university's former defensive coordinator Jerry Sandusky. Sandusky now faces a 40-count indictment and charges that he molested at least eight boys over an 11-year period.
Head coach Joe Paterno and university president Graham Spanier were fired by the board of trustees on Wednesday for failing to report incidents of abuse to law enforcement authorities. Assistant coach Mike McQueary, who allegedly witnessed an incident of abuse, is still on the football coaching staff. McQueary will not be at Saturday's game against Nebraska because he has received multiple threats.
According to the grand jury report, McQueary "entered the locker room doors, he was surprised to find the lights and showers on. He then heard rhythmic, slapping sounds.
The assistant looked into the shower and "saw a naked boy ... whose age he estimated to be 10 years old, with his hands up against the wall, being subjected to anal intercourse by a naked Sandusky."
McQueary, who was a graduate assistant at the time, reported the incident to Paterno, who in turn alerted Athletic Director Timothy Curley. Curley took the report to university vice president for finance and business Gary Schultz. Curley and Schultz also failed to report the incident to law enforcement authorities and instead banned Sandusky from bringing children to the school's facilities.
Both Curley and Schultz face charges of perjury and failure to report abuse. Curley is currently on administrative leave from the university and Schultz took early retirement. Paterno is not facing any criminal charges at this time.
Penn State students planned a candelight vigil for Friday night to show support for Sandusky's alleged abuse victims. The scene will be far different from that of Wednesday night when students rioted in protest of Paterno's firing.
The university's interim president, Rodney Erickson, told those attending Friday's board of trustees meeting that his heart goes out to the victims and that the school will move forward.
"It will take all of us some time to come to grips with the full magnitude of the damages … (but) we are certainly not adrift or without a vision going forward."
Best way to find more great content from Neon Tommy?
---
Or join our email list below to enjoy Neon Tommy News Alerts.