Commentaries
Penn State: 4 Takeaways So Far From The Scandal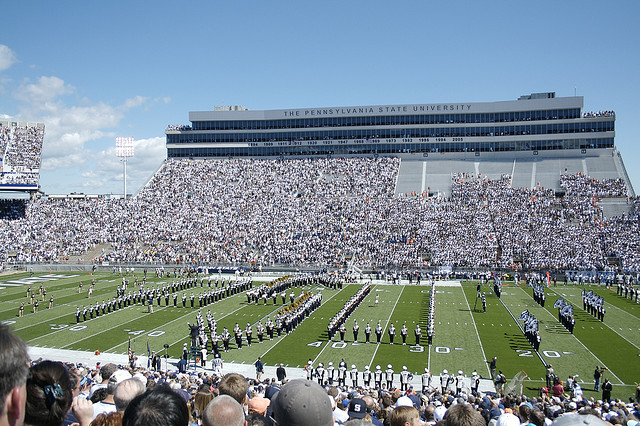 A Parable
The scandal has relevance to every individual because though it involves the downfall of one of the most exalted and fatherly figures in the football world, the core debate is over his choice is an ethical dilemma anyone could face. A poor decision to let basic moral and ethical values go by the wayside is simply unacceptable.
If it was out of loyalty to his assistant coach, if it was out of an attempt to protect the university, if it was just a situation that left him in paralysis, only he can say. Joe Paterno turned out to be human. Each of us can only strive to be superhuman.
Silence Kills
"Silence is the number one enemy of organizations while dealing with a crisis," said Steve Dittmore, an assistant professor of recreation and sport management at the University of Arkansas, in an interview with KXSC Sports. "There is still an insatiable desire for news and information and the media will go and fill that void with -- rather than organizational messages -- they will interview themselves and people on the streets."
He added, "They might have gotten away with being silent or being quiet for about six to eight hours 10 to 15 years ago." But in today's digital news environment, wait that long and the "vacuum gets filled with negative information. There are ways to respond without fanning the flames of the criminal process, without perjuring anyone or anything like that."
He compared the situation to someone waking up after a long night of drinking. The best-case scenario involves vomiting everything at once rather than suffering through hours near a toilet.
"You just want to get it all out and be done with it and start to feel better and start the road to recovery," Dittmore said. "Do we want to get the information out there piecemeal or do we want to be as transparent and open as possible. Penn State is in dry heave with respect to their PR right now."
Penn State's Brand Is Broken And Could Take A Decade To Recover
"Name something you now associate with Penn State other than this," Dittmore said. "It used to be the blue-and-white jerseys. It used to be football. It used to be the number of doctoral students they produced. It used to be any of their strong academic programs."
As the brand weakens, people try to distance themselves from that organization, person or entity during a crisis.
In turn, the entity facing the crisis needs to explain what it is doing to rectify the crisis, and it needs to satisfy each of the sets of stakeholders by giving them a reason not to loosen their association with the entity.
The Old Adage Is King In The End: Remember The Kids
"These are figureheads who covered it up," he said, referring to Paterno and ousted Penn State President Graham Spanier. "Let's not forget there are in all likelihood kids who had their innocence robbed."
Here's a round-up of a handful of other lessons.
Like reporter Paresh Dave on Facebook, follow him on Twitter, circle him on Google+ or send him an e-mail.
Best way to find more great content from Neon Tommy?
Or join our email list below to enjoy Neon Tommy News Alerts.