Film and TV
"Pan Am" Episode 7 Recap: The Spy Who Loved Me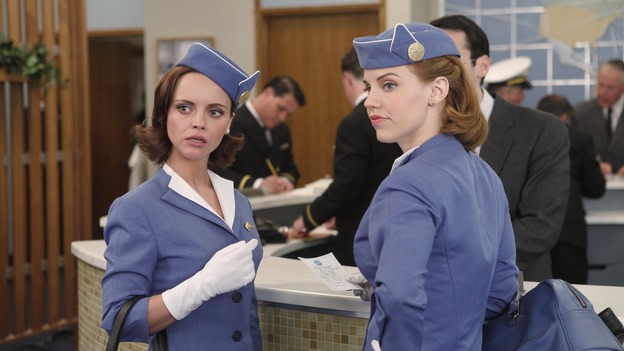 How serendipitous. Just after the announcement that ABC has ordered five more episodes of "Pan Am" in hopes that it will… eh hem, "take off" with viewers, the show hits us with an episode that we really wouldn't mind five more of. Or even a season more of. "Truth or Dare" was a special kind of episode that stopped relying on the adorable 1960s s and costumes to carry it and entertained truly with its storylines and performances.
While things were left off somewhat abruptly last week, from the opening five minutes of this episode we can gather the following:
1. Maggie still has her job, yay!
2. Dean still has his job, yay!
3. Laura has forgiven Maggie's fraud and they are still roomies, yay!
4. Colette's hair magically changes length from a short bob when she is being a stewardess to a long ponytail when she is partying, yay! Now that's a nifty parlor trick!
But, what can be gathered most of all is that after all the turbulence and trauma of last week, everything was fine. Everyone was still employed, Kate was still in love, Dean hadn't been whacked by the VP of Pan Am for messing with the wrong kind of company property. The girls were even drinking and playing truth or dare like the cutest kind of sorority sleepover. And soon they were joined by a fraternity-of-sorts of Navy officers, fresh off of several months in a submarine… so you know what that means, party time! Yes, everything started off just grand. But it didn't end that way. Let's discuss.
Remember Ginny? The ambiguously seductive mistress/ secretary/ shameless drunk/ all around Bad News Bear? Well, neither did Dean. The handsome pilot was too busy making Colette's dreams come true this past episode, and by that I don't mean falling in love and riding off into the sunset to live happily ever after. Girl missed that dream by two time slots ("Once Upon a Time" is on at 8, silly!). No, with Dean's clever assistance, Colette was able to transcend her position as stewardess and fly the airplane (if only for a few minutes). While the other co-pilots abandoned post to go watch the rowdy bachelor party in the main cabin, Dean and Colette, the resident written-in-the-stars-meant-to-be-made-for-each-other-star-crossed-lovers-type-of-couple shared a meaningful moment in the cockpit. And the only thing outnumbering the drunken Navy men onboard was the amount of coy looks between the two. But alas, they are just friends. For now. Make it happen "Pan Am!!"
And just when we all thought Laura was one episode away from being the country club classic Mrs. Ted Vanderway, she took things in a whole new, unexpected direction. In a romantic move that was as endearing to the times as a "Hairspray" number, Laura found herself wooed by a charming Southern man… only one problem, he was African American. After gracing a magazine cover and taking nude photos just for fun, Laura's life was starting to resemble that of a modern day Hollywood starlet… so a scandalous relationship would be the logical next step (at least that's what Lindsay Lohan would do). And while Laura succumbed to the racist tendencies of the times initially, she took Joe's hand when it mattered most… and accidentally got him punched in the face by some slimy creep who was apparently not only racist, but violent as well. But, at the end of the day, Joe had to go back home to Mississippi (a very many s's and i's away from Laura and her jet-setting lifestyle), but Laura would always have the memory of being in his arms to comfort her when she felt afraid.
But the biggest and the baddest storyline of them all was saved for Kate. Forced to come to terms with the fact that any way the cookie crumbled, her love affair/ inadvertent business relationship with Niko, the dashing Yugoslavian diplomat, was doomed. Last week she was given the ultimatum that turning him as a spy for the CIA was probably the only way to save his life. This week she learned she had to do it in 4 days, or else send him back to Yugoslavia to a probable death. And then there was Richard. Her contact/ advisor for some reason interpreted Kate's call for advice on what to do in her limited time frame as, "Oh please, Richard, send four violent men to my apartment to beat down and abduct my boyfriend!!!" Because that is exactly what he did. 24 hours later Kate was no less distressed and furious, and Niko, apparently, was refusing to cooperate without talking to his lovely lady. Despite his achy breaky heart, Kate tearfully begged him to just join the CIA. What we had was real, his beliefs are their beliefs, she said. They would be sending me back to Yugoslavia permanently where I will most certainly be killed, he said. Oh, the classic he-said she-said game. Gotta give it to Niko this time, though. But, he came around a couple days later, we learned, as Kate met him at the terminal before his flight to Yugoslavia. Armed with "Richards" of his own, Kate and Niko shared a last conversation that, at surface level, looked civil and appropriate for a short lived relationship, but the subtext of which read more like a Stephanie Meyer novel. But, Kate picked herself up and greeted people onto the airplane with a smile, a sign that it is going to take more than just one devastating breakup to get her. Atta girl!
'Twas indeed a crazy episode all around. Make-ups and break-ups and everything in-between. Can I just take this time to add one more lesson from my list two weeks ago? Ok, here we go:
Lesson #5: Being a "Pan Am" stewardess is great for your love life.
 Kate might not necessarily agree right now, but within only 7 episodes, these four stewardesses have met/ flirted/ taken up affairs with men from all over the world, charming men at that.
But, what charming men will next week's episode, entitled "Unscheduled Departure" have? At least one, whose mid-flight medical emergency forces the crew to make an urgent landing in the middle of a hurricane in the crisis stricken Haiti. Looks fun. Check out the promo below.
Best way to find more great content from Neon Tommy?
---
Or join our email list below to enjoy Neon Tommy News Alerts.