National
Occupy Wall Street Day Of Action: Protesters March On Brooklyn Bridge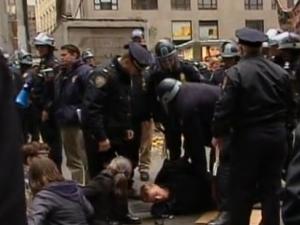 Occupy Wall Street demonstrators peacefully marched across the Brooklyn Bridge on Thursday evening, rounding out the
"National Day of Actions" events
, which included a march to the New York Stock Exchange and the "occupation" of the subway.
At least two dozen arrests were made as thousands of Occupy Wall Street and union members prepared to cross the bridge, The Wall Street Journal reported.
More from the WSJ: "The march had just begun when a small group broke off and headed into the lanes of traffic on the bridge. Police handcuffed the marchers with plastic zip ties and led them away without incident."
According to the Associated Press, more than 200 arrests were made on Thursday at Occupy events that spanned coast to coast. The majority of arrests were made in New York.
The Associated Press reported: "The marches were for the most part peaceful, with only scattered clashes between police and demonstrators. Most of the arrests were for blocking streets, the traffic disruptions were brief, and the turnout, at least in New York, fell well short of what police had been expecting."
The National Day of Action events coincided with the movement's two-month anniversary.
Related Content:
Occupy Wall Street Day Of Action: Protesters' Take To The Subways
Occupy Wall Street Day Of Action: Hundreds March, Dozens Arrested
82-Year-Old Woman First To Be Arrested At Occupy L.A. "National Day Of Action"