Los Angeles
Occupy LA Files For Injunction Against City Threatening Eviction
Representatives of Occupy L.A. filed an injunction Monday to stop police from carrying out eviction orders, citing civil rights violations of the First and Fourteenth amendments.
Protesters Katherine Knox-Davies, Jesse Dotson and Matt Ward collaborated with James Lafferty, director of the National Lawyers Guild's L.A. chapter, to file the injunction. Court documents laid out complaints seeking "relief to redress an unconstitutional deprivation of access to a traditional public forum, the south Lawn of City Hall, for First Amendment Activity."
Lafferty addressed the media in a news conference Monday morning. "City Hall Lawn, according to the U.S. Supreme Court, is one of the most sacred places for the exercise of the right to assemble and protest," he said from the building's Spring Street steps.
He and the representative Occupiers are also decrying a violation of the Fourteenth Amendment in the city's "arbitrary and capricious action… by first approving the Occupy presence for 56 days before suddenly revoking permission through the unilateral action of defendant (Antonio) Villaraigosa."
L.A. has been unique in its handling of Occupiers as city officials, including the mayor and members of the city council, initially gave the movement their blessing. Public figures praised protesters for exercising their democratic rights in a civil, nonviolent manner. Villaraigosa has since changed his tune, however, and Occupiers see the backpedaling as an overreach.
He conceded that the city does have an ordinance in place against overnight camping, but pointed out a clause that allows camping in designated areas. In passing a resolution in support of the movement, the city council included city hall's lawn as one such exemption. The Occupiers' complaint pointed out that Villaraigosa told Lafferty and organizing protester Mario Brito early on that the prohibition would not be enforced.
"It's the mayor that we are very upset with for trying to usurp powers that are not his and and trying to override the very reasonable position of the city council," Lafferty said. He blasted Villaraigosa for bowing to the demands of big business and powerful politicos.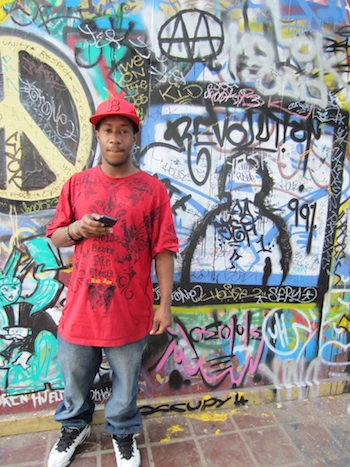 "This is about the fact that politicians still beholden to the 1 percent want to prevent this movement, which is only beholden to the 99 percent, from not having its day, and they will fail," he said. "Anybody who thinks this movement will live or die depending on what happens on that dead grass doesn't understand the power of the movement."
Maintenance of the city hall lawn has come up frequently in Villaraigosa's public statements calling for Occupy L.A.'s eventual shutdown. In defense of the movement's right to camp out on public property, Lafferty denied claims of filth and crime by city leadership. "There are no problems in that camp, there is no disease in that camp, crime is not rampant in that camp. If you spend as much time in that camp as I have, you understand that they clean that park all the time."
But actual Occupiers beg to differ. John Davis, 23, said the arrests last night were inevitable given the deplorable behavior he's seen since joining the encampment. He cited instances of theft and fighting, and said the demonstration in the streets last night was bound to come under fire by law enforcement. "We've had problems out here. Things had to change," he said. Last night's rowdy Occupiers, he said, "think they're doing what's in the spirit of the movement, but they're not.
"We want things done in a certain way," Davis said, "and when you aggravate police, it leaves us chanceless for our demands to be met." Davis said he plans to stay until city leadership heeds those demands.
Like the rest of his camped out peers, Davis seemed tense in anticipation of police response, even in light of announcements by officials that there wouldn't be a raid. Lafferty said he hoped law enforcement would continue to keep the peace. "My expectation of the police is that they will have the decency to let this court process work itself out," he said. "It's only another few days.
"There's no need to rush to judgment here," Lafferty continued. "The court process is not going to take that long. We're hopeful for an outcome that will ensure that Los Angeles is an example to the rest of the country of how you deal with this wonderful, dynamic fight for economic justice and democratic rights."
The National Lawyers Guild has filed similar complaints in Occupy cities across the country, to varying degrees of success. A hearing is expected to take place in L.A. Tuesday or Wednesday of this week. Lafferty expressed confidence that their request would be approved, but offered no projections for the future of the movement.
"As one who practiced law for 40 years," he said, "I never predict what will happen in court. Only what should happen."
Reach Catherine here; follow her here.
Best way to find more great content from Neon Tommy?
Or join our email list below to enjoy Neon Tommy News Alerts.