Los Angeles
Newly Poor Seek Aid At Union Rescue Mission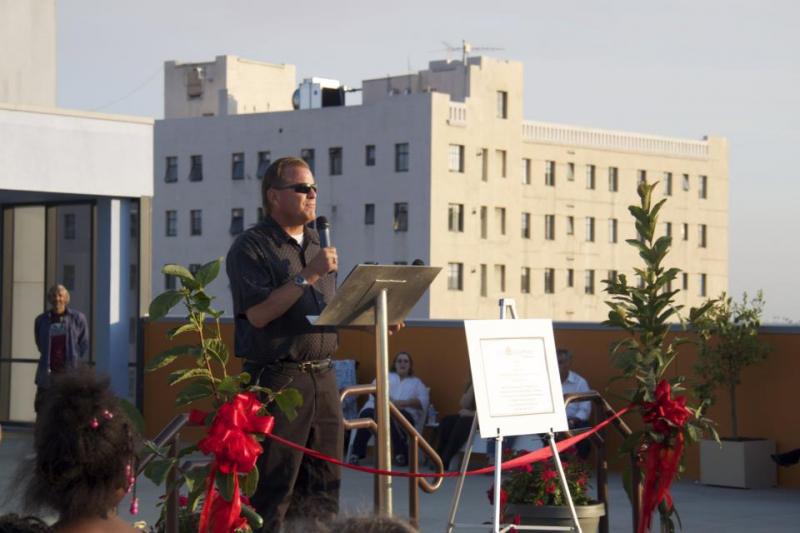 Less than a decade ago,
William Baker
was a successful member of Hollywood's film industry.
He worked behind the scenes on a handful of movies, his most prominent being 2003's Exorcism, and ran his own production company, King of the Capital Productions.
Then, things took a turn for the worst. With the fall of the economy, his business ventures began to go downhill. He, his wife and two children were forced to scale back their lives, downsizing to cheap apartments and struggling to make ends meet.
Now, mere years after he was earning a six-figure salary, Baker and his family live in a homeless shelter.
There is a false conception of homelessness in Los Angeles as a problem only the lower class faces. However, in these difficult economic times, more people than ever are going from riches to rags.
"There are more people in need now than ever before," said Andy Bates, CEO of Union Rescue Mission, a Christian homeless shelter on L.A.'s Skid Row. "The number of people in the streets, on Skid Row, has doubled in the past year. Families who have never experienced homelessness before [are experiencing] homelessness for the first time."
One of those families is the Bakers.
"It took is a while to get this far, but the economy did not help," Lucy Baker said. Around the time of the recession, "no one was making new films… or budgeting independents, and there were more recreations of [movies] that had already done well".
As the industry went downhill, so did her husband's career.
"He was behind the scenes as a director… the recession really fumbled his career." Lucy also was dealing with medical conditions, which put more stress on their money situation. "It got to the point where we kept downsizing and downsizing and downsizing… We were thinking: how are we gonna care for our family and kids? It wasn't until April that we couldn't anymore and came to [Union Rescue Mission]".
Union Rescue Mission and other social service agencies like it have been a huge help to the Los Angeles natives who were hit hardest by 2007's recession.
The organization was established in 1891 on the premise of embracing the homeless with the compassion of Christ and helping them find their way. Today, the mission provides food, shelter, legal assistance, medical and dental treatment, job opportunities and ministry programs, among other types of care, for those in need.
Union Rescue Mission has recently faced difficultly weathering the harsh economy. They downsized their 160-person staff by 14 employees and reduced their funds by 16 percent over the last year. Since the start of the recession, they've cut their budget by $4.5 million. With less money to work with, it's been difficult for the mission to accommodate the influx of clients.
Andy Bates has seen thousands of locals seek help at the mission, many for the very first time. These people, he said, are searching for "a safe environment, a roof over their heads, food and encouragement."
"I don't have to worry about, 'Where am I going tonight?' or things of that nature," Lucy Baker sighed, happy that her family has a reliable place to stay after years of stressful uprooting.
The Baker family lives on the fifth floor of housing in Union Rescue Mission. Other areas in the building include dining halls, gymnasiums, and classrooms.
Perhaps the biggest thing Union Rescue Mission provides for its clients, beyond the basic necessities, is hope for the future. The shelter's many programs boost clients' financial growth, guiding them towards self-reliance. The biggest way they do this is by providing the homeless with opportunities to start new careers. Recently, Union Rescue Mission began to partner with businesses to jumpstart their regulars into the working world.
"Two guys from Toyota started mentoring 10 people in our program," Bates said. "When they graduated from our course, Toyota brought one of their programs, UGL Services, that runs their facilities. They interviewed ten of our guys for our jobs, and then they hired seven of them. So, that's one great way [to solve homelessness]—for companies to come and interview some of our graduates who've turned their life around."
For the Baker family, who are newly homeless, mission employees helped them apply for welfare—something they never had to consider before. "Things are starting to get better for us," Lucy Baker said. "We're looking to go back. It just depends on the industry."
Even with Union Rescue Mission tripling the number of people it serves, the homeless population on Skid Row has doubled this past year. "We don't have the capacity [to house more people]," Bales said, "but even if we did, we could continue to grow forever and never keep up." Homelessness is increasing exponentially across America, and shelters are falling more and more behind in their efforts to accommodate. 2.6 million people fell under the poverty line this year, making the percentage of poor Americans the greatest in over a decade.
"I think we are in a time that rivals the Great Depression," Bates said, reflecting on the increase in customers and financial limitations his organization faces.
Yet in the face of economic unease, Union Rescue Mission continues to make brave and aggressive strides towards helping their clients. This year, they provided a brand new wing to accommodate single fathers. They also added rooms to Project Restart, a program that bounces the newly poor back into successful lives. Recently, they partnered with Jewish Vocational Services to help ease the unemployed into the working world.
In a time where most agencies would put on the breaks, Union Rescue Mission is going full speed ahead. The reason: true Christian compassion. The shelter's mission statement calls for giving all people hope and healing, no matter the consequences.
"I'm laughing so I don't cry," Baker said through thinly veiled laughter as she told her family's story. "This is a sad thing for me."
It's people like Lucy Baker, who puts on a smile to stay strong for her kids, and her husband William, who lost so much in pursuit of his dreams, that inspire Union Rescue Mission to keep fighting homelessness against financial odds. For those who barely cling to hope, the mission will continue to lend a hand.
Reach Stephanie Case here.
Follow her on Twitter.
Others in this series:

L.A. Mission Cuts Jobs to Feed Homeless

On Skid Row, the LA Mission provides a large community, but at a cost.

Continue here.

Homeboy Industries: A Year Later

After nearly going bankrupt, Homeboy Industries manages to find financial stability.

Continue here.

PAWS For A Cause

Studies prove that people with life threatening illnesses improve their health and memory by having a pet. Woof woof!

Continue here.

There's a Place I Know, A Place Called Home

A Place Called Home provides a safe haven for children in South Central Los Angeles.

Continue here.

Chrysalis Endeavors To Bring People Back To Work

Chrysalis is getting the unemployed back on their feet.

Continue here.

Project Angel Food Cuts Costs, Saves Nutrition

Project Angel Food implemented new programs to continue providing healthy meals at no cost.

Continue here.

Foothill Family Service Faces Increased Demand In Spite Of Decreased Funding

Foothill Family Service works to prevent poverty, community violence, domestic violence and job loss in the San Gabriel Valley.

Continue here.

Hippie Kitchen Keeps Hopes High

The L.A. Catholic Worker Soup Kitchen keeps hunger at bay for the homeless on the streets.

Continue here.

Clare Foundation: Fighting Addiction In Los Angeles

At the Clare Foundation, treatment for patients now comes at a cost.

Continue here.
Best way to find more great content from Neon Tommy?
---
Or join our email list below to enjoy Neon Tommy News Alerts.