National
New Sandusky Accuser Files A Lawsuit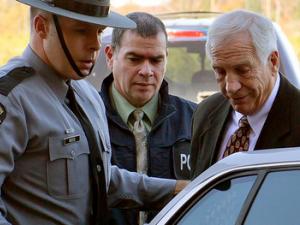 A lawsuit was filed Wednesday against former Penn State assistant football coach Jerry Sandusky by a 29-year-old man who says he was abused by Sandusky more than 100 times. This lawsuit is the first sex-abuse lawsuit filed in the scandal, according to
The Daily Beast
.
The accuser, identified as John Doe in the lawsuit, claims he met Sandusky at The Second Mile when he was 10 years old. The abuse allegedly then occurred between 1992 and 1996, ESPN reports. John Doe is not one of the eight boys the grand-jury report says Sandusky abused.
Jeff Anderson, John Doe's attorney, told CNN that the victim and his family were threatened by Sandusky that they would be harmed if anyone alerted authorities to the abuse.
The suit also claims that Sandusky gave the accuser gifts, travel and other privileges when he attended The Second Mile camp.
Sandusky allegedly abused John Doe at his State College home, at Penn State facilities and at a bowl game trip, MSNBC reports.
The suit names Sandusky, The Second Mile and Penn State as defendants.
"The people at Penn State and Second Mile didn't do the things they should have to protect me and the other kids," a statement from John Doe told MSNBC. "I am hurting and have been for a long time because of what happened, but feel now even more tormented that I have learned of so many other kids [who] were abused after me. I want other people who have been hurt to know they can come forward and get help and help protect others in the future."
John Doe and his attorney told the press that John Doe decided to come forward and take legal actions to prevent Sandusky from abusing any other children.
"Penn State's and Second Mile's conduct in employing Sandusky, holding out its premises as a safe environment for children when it had reason to know it could be a dangerous place for children, and thereby causing Plaintiff to be raped by Sandusky constituted extreme and outrageous conduct that was atrocious and went beyond all bounds of decency," the lawsuit claims.
Sandusky, who is free on $100,000 bail, is maintaining his innocence. Joe Amendola, his attorney, said Monday that Sandusky is working with a private investigator to prove his innocence, according to CNN.
-----------------
Reach associate news editor Hannah Madans here.
Best way to find more great content from Neon Tommy?
Or join our email list below to enjoy the weekly Neon Tommy News Highlights.