Sports
Move To Pac-12 Aids Fundraising For Colorado, Utah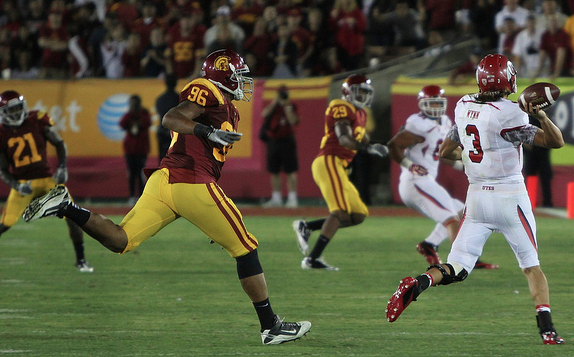 Moving to the Pac-12 conference has brought the football teams at the universities of Utah and Colorado larger audiences when they travel on the road and boosted donations to athletics because of the chance to visit much larger markets.
Utah had about 5,000 alumni living in cities within the Mountain West Conference, including San Diego and Fort Worth. Colorado had about 11,000 alumni in Big-12 cities, including Stillwater, Oklahoma and Columbia, Missouri.
The switch to the Pac-12 increased the alumni footprint in conference cities to 50,000 for each of the schools.
As USC plays in Colorado on Friday, the University of Colorado athletic department's booster club will certainly be looking ahead to next year when they have a chance to play a football game in Los Angeles for the second-straight year for the first time in a while.
"Going to where your people are is very important in this case," said Kurt McGuffin, Colorado's assistant athletic director, in an interview with KXSC Sports earlier this season.
By early September, the school had added about 700 new donors from out-of-state to its 57,000-person-strong annual fund. The fundraising department also increased staff, so a handful of events could be held each year in the new markets.
"It's a whole new world out there," McGuffin said. He said hopes many of the new donors will become capital givers who help finance new athletic facilities at the university. Colorado is also setting aside a section of seats at home pages for large donors who want to attend even just a single home game.
The University of Utah's five largest alumni centers outside of the state are Phoenix, L.A., the Bay Area, Seattle and Denver.
"That matches exactly the footprint of the new Pac-12," said Doug Knuth, Utah's senior associate athletic director for external relations. And the bevy of events in each of those cities ahead of games is much different than the visits to Mountain West cities were.
"We could probably name all of the University of Utah alumni in Laramie on one hand," Knuth quipped.
Largely behind the impetus to increase private donations is declining state funding for public colleges across the country such as Colorado and Utah.
"We still got to be competitive," Knuth said. "We can't go backwards financially, so we put more and more focus on private giving…and focusing on the model private schools have been using for generations."
He explained that public schools for decades have relied on alumni technically giving through their taxes.
"We're envious of the culture (at private schools)," Knuth said. "The expectation of giving starts when you're a student. We're going to ask you to give back someday and by golly, you will."
Long-term, the key to keeping donations up will be winning. Otherwise, the excitement in the new markets will fade.
Much of the new money will go to ramping up the teams to stay competitive in much tougher conference.
"No one wants to be 12th," Knuth said, noting that Utah's $35 million budget was 12th in terms of athletic department budgets in the conference. "We've got to find a way to raise money, to compete favorably. Otherwise, we're going to be staring at 12th."
Utah, which has about 6,000 alumni in the greater Los Angeles area, sold out its allotment of 5,000 tickets for its game against USC at the L.A. Memorial Coliseum earlier this year. Knuth said another 1,000 Utah fans bought tickets through other means. Barely 2,000 fans showed up to its Mountain West road game against San Diego State even when the team was undefeated.
The next challenge is to draw people to basketball games, gymnastics matches and all the other sports.
"It's a chance for them to get reconnected to the U," Knuth said.
Like reporter Paresh Dave on Facebook, follow him on Twitter, circle him on Google+ or send him an e-mail.
Best way to find more great content from Neon Tommy?
Or join our email list below to enjoy Neon Tommy News Alerts.