Sports
Milan Lucic Not Suspended For Ryan Miller Hit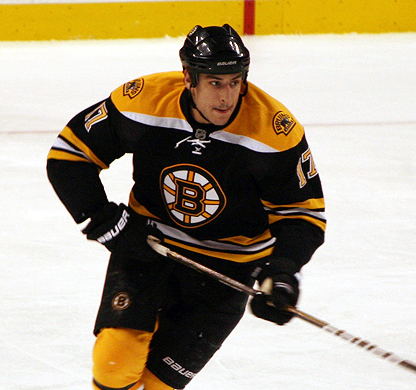 Boston Bruins tough guy Milan Lucic will not be suspended for his hit on Buffalo Sabres' goalie Ryan Miller, the NHL announced Monday. According to Brendan Shanahan, the NHL Senior Vice President of Player Safety and Hockey Operations, the ruling stems from the lack of malicious intent.
In a game on November 12 between the two teams, Lucic skated full speed down the ice on a breakaway that resulted in him knocking Miller down flat on his back.
The hit ignited the players and the commentators, who can be heard saying "They oughta clean his clock. He took a direct aim at Miller [...] That was not an accidental collision. That was as deliberate as it can possibly get and that, that, is what they want to take out of the game. I thought that was what they wanted to take our of the game."
Miller has since been diagnosed with a concussion and his return is still unknown.
Miller did not want to answer many questions, but he did take the time to share a few choice words with the press and called Lucic out for being "gutless." During the game, Lucic only served a two-minute charging penalty. Many disagree with this ruling especially in light of the NHL's attempt at cracking down on hits that cause injuries. A suspension was expected, as it is not everyday that a goalie is steamrolled out on the ice.
Lucic did not comment on Miller's comment, but did explain to NHL.com that "[Miller] came out of his net. I was going full speed. There's not much I can do. So that's basically it."
Lucic won the Stanley Cup this past season with the Boston Bruins and is well known for his gritty playing style. Miller was the goalie for the 2010 United States ice hockey team at the Vancouver Olympics, where he took home a silver medal.
______________________
Reach Lauren by email, or follow her on Twitter.
Best way to find more great content from Neon Tommy?
Or join our email list below to enjoy the weekly Neon Tommy News Highlights.