Food
PREVIEW: Cupcakes + Art: LA's First Vegan Cupcake Competition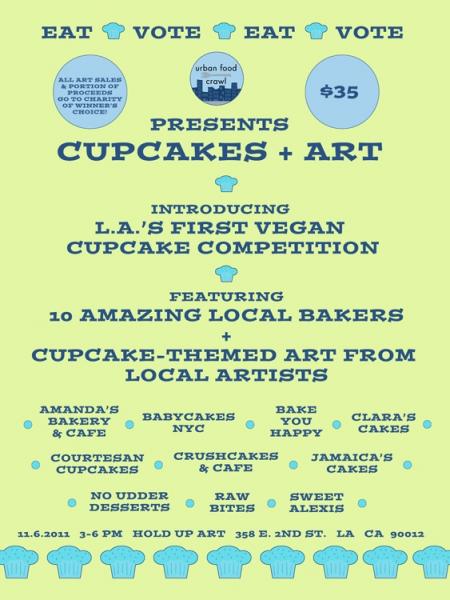 If you are looking for a fun foodie event to attend this weekend, look no further than LA's first vegan cupcake competition on Sunday, Nov. 6 at 3 p.m.
The last event hosted by Urban Food Crawl, a vegan food tours organization, opened the eyes of many food-lovers to the possibility of sustainable culinary vegan delicacies. Now it seems they are trying to convert foodies entirely by offering a vegan cupcake bake off competition.
The event features ten amazing bakers that are sure to delight even the pickiest of sweet tooth pallets, such as Amanda's Bakery & Cafe, Babycakes NYC, Raw Bites, and No Udder Desserts.
For $35, participants will be able to sample ten different types of sweet treat creations and vote for their favorite vegan cupcake.
Aside from the offering of edible sweet treats, art aficionados will be able to sample the Downtown LA art gallery scene at Hold Up Art. The venue will appropriately feature cupcake-themed art from local artists.
Tickets are available here. All proceeds will benefit the winning baker's charity of choice.
Reach reporter Sarah Ledesma here. Follow reporter Sarah Ledesma on Twitter.

Best way to find more great content from Neon Tommy?
---
Or join our email list below to enjoy the weekly Neon Tommy News Highlights.