Sports
Joe Paterno To Retire; Leaves Tarnished Legacy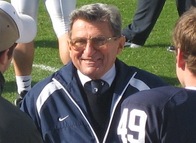 How could you do this to us, Joe Paterno?
Your 409 wins were supposed to be immaculate. Your two national championships were earned "the right way." For goodness sake, you were the face of everything that was good about college football for46 years.
In an instant, college football fans are forced to look at your tremendous career through a new lens: a man forced out of the job he loved because he could not keep his program clean.
Per a report from the New York Times, Jerry Sandusky, a former assistant at Penn State, is being charged with sexually abusing boys over a 15-year period. Beyond this, Gary Schultz and Tim Curley, the latter being the Penn State athletic director, are being charged with perjury for failing to report the crimes, which they reportedly knew about for years.
Joe Paterno may not have been the one who committed the crimes; if he was the one accused of sexual assaults, I'd probably never watch football again. But it's Joe Pa's program. Paterno is supposed to be the king of State College; Beaver Stadium is his home away from home; he is supposed to know everything about his program. This is where Paterno made his fatal error.
By all accounts, Paterno did know of the alleged abuse. In fact, the same New York Times article states that he heard of allegations in 2002 and did not tell the authorities. This is not a criminal act; Paterno, "had met his legal obligation in alerting his superiors at the university when he learned of the 2002 allegation,"; however, if Paterno was the coach and person we all thought he was, he would have either told the police of the situation and/or done more to make sure that his coaching staff would be held accountable.
There is no way that Paterno should have let the media find out in 2011 what he knew nine years before. Paterno should have stood up and done what was right; not let a storied career that should be remembered for more wins than anyone in college football history be pushed into a corner because he failed to speak up.
The University of Miami may have had sex parties on yachts; Ohio State players might have traded personal items for tattoos; USC may have given Reggie Bush's parents a house that was a little excessive.
It all pales in comparison to this scandal. It's one thing when players receive benefits and commit lewd acts; but it is a completely different matter when sexual abuse of children is occurring on your watch. I don't think Jim Tressel should have even been forced to resign, and Pete Carroll shouldn't have been forced out of USC (let's be honest, who really wants the Seahawks job?). I thought that Miami's scandal was the worst of all; Nevin Shapiro paid for an abortion for the lady friend of a Hurricane. But not even Shapiro could have dreamed this one up.
I really respected Joe Paterno, but to see him resign doesn't really do justice for the crime here. He should not be allowed to leave on his own terms.
I know, he did a lot for Penn State; in fact, the Nittany Lions were completely irrelevant before he took over. In an era of sanctions, Paterno was supposed to be the face of everything we love about football. But he doesn't deserve the right to go out gracefully, even if it is forced grace.
He should have been fired.
Perhaps it was our fault as fans for looking at Paterno as the one ray of hope left in college sports (or even sports in general, for that matter). He made it okay to still like collegiate athletics, despite the occurrences at USC and the like because he did things the right way. As it turns out, he was as afraid to speak up as everyone else.
He might not have committed the crimes, but failing to alert people and not taking action is almost as bad, especially when you supposedly run a program that has been perceived as the cleanest of all.
We cannot erase Paterno's victories, or what he did for the Penn State program. He singlehandedly created a college football powerhouse.
But this is not what we wanted to remember him for. No, we wanted to remember him as the last glimmer of sunlight in the cloudy sky that is the state of collegiate athletics.
I guess the clouds just closed up for good.
Who would have thought? Joe Paterno, the man who once said, "Success without honor is an unseasoned dish; it will satisfy your hunger, but it won't taste good," would go out with little or no honor?
Joe Paterno's resignation means the end of an era; not only is the face of Penn State football gone, but the face of innocence and honesty is gone from collegiate sports. Why did you have to leave us like this, Joe Pa? We believed in you for years because you made it seem like we were supposed to.
Without you, Coach, I really have no hope left for sports. Your departure from Penn State officially ends my search for honesty in athletics.
How could you do this to us, Joe Paterno?
____________________________________
Reach Michael by email, or follow him on Twitter.
Best way to find more great content from Neon Tommy?
Or join our email list below to enjoy the weekly Neon Tommy News Highlights.