Technology
Do You Use Your Cell Phone While Getting A Haircut?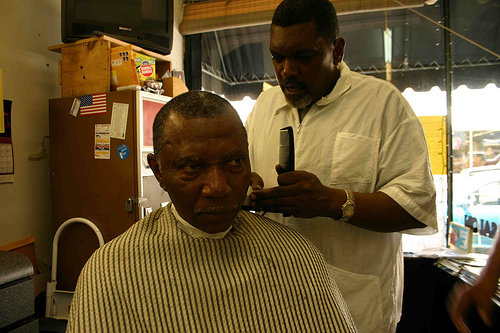 For about 15 minutes every few weeks, trying to use a cell phone becomes a tricky task for many younger males.
They find themselves in a barbershop, hunkered down to a chair with a robe drawn over them. Today, some of those barbershops have become absolute no cell-phone zones. At others, the barbers will refuse to cut a patron's hair if or she decides it's time to text or call.
Sometimes, there's a chatty barber, a magazine or a television to help pass the time. But more often than not, people sit on a chair, idly waiting to marvel at their fresh look.
In Davis, Calif., Aggies' Barber Shop is one of those establishments where customers know to keep their cell phones tucked away and on silent.
"A barbershop is meant to be a place for people to relax," said K. Nguyen, a barber at Aggies. "And when people are talking on their phones, their voices are projecting and they could be arguing. In order to maintain our relaxed environment, we don't allow them inside."
Nguyen said distracting conversations or texting would be unfair to not only other customers, but also to the barbers trying to focus on their craft.
At hair salons, associated with a younger and hipper crowd, stylists are more open to customers calling and texting on their phones in the middle of a haircut.
"I do my business, and you do your's," said Aura Cervantes, a stylist at Touch of Class Hair Salon in Los Angeles. "Otherwise, who's going to pay my bills?"
She estimated six in 10 customers use their phones at some point during a haircut.
Nationally, the estimated number of barbers has dropped 30 percent from 13,300 to 9,400 during the past decade, according to U.S. Bureau of Labor Statistics. During that same period, the number of employees nationwide in the separate category of hairdressers, hairstylists, and cosmetologists increased 7 percent from 327,000 to 349,000.
At barbershops in the Kennedy's All-American Barber Club chain, barbers aren't afraid to bring out an imposing straight razor blade when patrons try to mangle their ringing cell phone out of their pockets.
"A barbershop is no more sacred then any other place in this day and age," said Nick Nanton, the chief marketing officer for Kennedy's. "Certainly, people will attempt at all times to use cell phones."
Because barbers at Kennedy's dissuade customers from using phones, the chain knows it has the generally undivided attention of customers. The chain immerses customers in an integrated marketing experience for its line of hair care products.
Are other marketers and advertisers missing a great opportunity to capture for a short time the eyeballs of young adults who are usually doing 10 things simultaneously?
Marketing experts are unsure whether it's worth intruding into barbershops that usually have only a couple of small poster ads for hair care products. Yet, there is something clearly intriguing about barbershops as they stand in the last batch of retail and service establishments where cell phone usage is frowned upon outside of the waiting area.
Trying to go beyond advertising hair care products is a troublesome proposition, according to Steve Stagnaro, a strategic marketing consultant based in Boulder Creek, Calif.
"There should be some self-restraint among those of us trying to capture people's attention," he said.
Another marketer said it all depends on the demographic of that barber.
"It's the 10 minutes where you have a chance to not to be bombarded by advertisements," said Renee Miller of L.A.-based The Miller Group. "If it's a product the customers are using and they are being entertained, it might be okay."
Customers indicated the ads would have to be compelling, but that advertising might be an experiment worth trying.
"Commercials get repetitive after a while so unless it's like Super Bowl ads, it might get a bit boring," said Robert Arceo, a 41-year-old from Los Angeles.
Stagnaro said when he went in for a haircut recently that he noticed a sign saying, "Please take your cell phone outside."
"They didn't want the sanctity of the barbershop broken by all the conversations, and I don't want to be the first marketeer to violate that either," Stagnaro said.
Volunteered Arceo, "I don't know if you've noticed or not, but regular old barbershops are a dying breed."
Like reporter Paresh Dave on Facebook, follow him on Twitter, circle him on Google+ or send him an e-mail.
Best way to find more great content from Neon Tommy?
Or join our email list below to enjoy Neon Tommy News Alerts.