Entertainment News
Demi Divorces Ashton Kutcher After Six Years Of Marriage
After weeks of enduring gruesome tabloid rumors of Ashton's affair with a 22-year-old, Demi Moore has decided to file for divorce.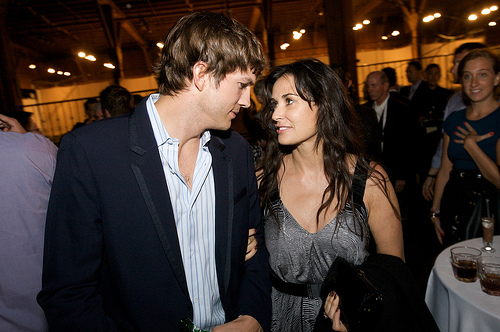 Moore issued a statement about her decision saying that,

"It is with great sadness and a heavy heart that I have decided to end my six-year marriage to Ashton," Moore, 49, said in a statement.

"As a woman, a mother and a wife there are certain values and vows that I hold sacred, and it is in this spirit that I have chosen to move forward with my life," she said. "This is a trying time for me and my family, and so I would ask for the same compassion and privacy that you would give to anyone going through a similar situation."

Many are saying that Demi's decision was very much contingent upon the rumors of Ashton's affair in which he allegedly had unprotected sex with a 22-year-old by the name of Sara Leal, telling her that he and Demi were "separated" at the time.

Since the rumors hit, gossip sites have had a field day covering both Ashton and Demi's every move. On September 24th , the couple's anniversary, TMZ spotted Ashton at FLUXX Nightclub in San Diego, while Demi was 3,000 miles away in New York promoting her new movie forLifetime.

Ashton, star of "Two and a Half Men", made a statement via Twitter tweeting:

"I will forever cherish the time I spent with Demi. Marriage is one of the most difficult things in the world and unfortunately sometimes they fail. Love and Light, AK"

The couple was a force to be reckoned with during their six years of marriage. Together they started the Demi & Ashton Foundation (DNA) in which they worked to combat the international sex slave trade. Hopefully the two will remain friends, but it's only up to time to tell!

Reach reporter T-aira Sims here.

Best way to find more great content from Neon Tommy?
---
Or join our email list below to enjoy Neon Tommy News Alerts.