Sports
College Basketball: Pac-12 Preview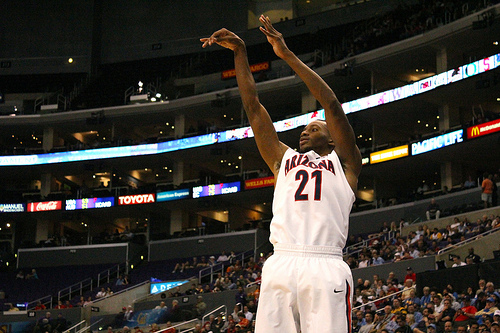 College hoops are underway, but conference play is what fans await with bated breath. The additions of Colorado and Utah to the Pac-12 this year shake up a conference in which the top spot will be very much up for grabs.
We've ranked the teams as they stand at this point in the season. Here's what to watch for:
1. Arizona Wildcats
Arizona might be the deepest team in the Pac-12, but that roster depth comes with some youth and inexperience. With the transfer of guard Momo Jones to Iona, sophomore Jordin Mayes and senior Kyle Fogg will have to pick up the scoring load in the backcourt, but they will be challenged for playing time by freshmen Josiah Turner and Nick Johnson. Senior Brandon Lavender is also capable of coming off the bench to knock in a clutch 3-pointer. The loss of Derrick Williams will be hard to overcome, but the Wildcats have the players to do it in junior forwards Kevin Parrom and Solomon Hill. Senior Jesse Perry will anchor the frontcourt. Last year may have been all about Williams, but "balance" is the buzz word in Tucson this year.
Player to Watch: F Solomon Hill. With the departure of Derrick Williams, it's time for Hill to step and become an all-conference player. Hill is averaging 12-points and 8-rebounds per game already this season. (Shamout)
2. Cal Golden Bears
Cal has a lot of potential this year. Mike Montgomery has this program going in the right direction. Aside from one poor showing against Missouri, the Bears have manhandled their opponents. Still, they have not played anyone superb as of yet. Their next big test looks to be against UNLV, who recently took out North Carolina, which was the number one team in the country. The Bears could be 11-1 or 10-2 at that point, which would likely place them in the top 25. If they get off to a good start, this team could make noise in the conference. (Katz)
Player to Watch: Jorge Gutierrez, G
3. UCLA Bruins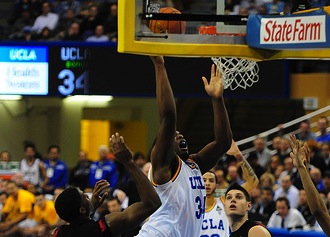 UCLA comes into PAC-12 play with one of the best frontcourts in the nation. Sophomore centers Joshua Smith and Anthony Stover are complemented this year by incoming freshmen David and Travis Wear. However, head coach Ben Howland announced Sunday that junior forward Reeves Nelson will not be in the starting lineup anytime soon due to behavioral concerns, so Nelson's status with the team will be something to watch as conference play starts. Without Nelson's scoring, the Bruins will really struggle to compete for the Pac-12 title. Guard play and perimeter shooting will be an issue for the Bruins after the departures of Tyler Honeycutt and Malcolm Lee to the NBA. Jerime Anderson is averaging 13-points per game this year, but the Bruins will expect more point production from the likes of Lazeric Jones and Tyler Lamb. UCLA's defense will likely get better and better the closer we get to March, as it usually has under Ben Howland.
Player to Watch: C Joshua Smith (above left). The 305-pound center might be the toughest player to defend in the NCAA, but his weight is also a concern. Head coach Ben Howland will need him to play more minutes than the 18.2-minutes per game he is averaging this year if the Bruins are to take full advantage of his abilities. (Shamout)
4. Washington Huskies
The Huskies made a great postseason run last season in almost making it to the Sweet Sixteen due in large part to star guard Isaiah Thomas. Unfortunately, Thomas is no longer with the squad and is playing in the NBA. Second leading scorer Matthew-Bryan Amaning also left due to graduation, so experience is certainly a problem for the Huskies. However, sophomore C.J. Wilcox has picked up the slack, and has thus far led the team to a 5-1 start. The schedule is not getting any easier, though, as Marquette and Duke are up soon for the team. (Katz)
Player to Watch: C.J. Wilcox, G
5. Oregon Ducks
The Ducks finished with a 21-18 record last season. However, five of those wins came in the CBI tournament. Their regular season record? 16-17. Still, hope is not lost in Eugene, especially with their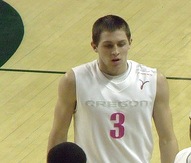 new basketball arena that opened last season. Garrett Sim (right) is the leading scorer thus far in the season, but E.J. Singler's ability to score as a forward from the perimeter makes him the key to this team. Their schedule is not too difficult, so they could make the tournament if things fall into place. However, it seems as though the Ducks are always going to turn the corner. Maybe 2011-2012 will be different. (Katz)
Player to Watch: E.J. Singler, F
6. Stanford Cardinal
The Cardinal will return to Pac-12 play loaded with experience, but without last season's leading scorer Jeremy Green. Senior center Josh Owens and sophomore guard Aaron Bright present a nice high-low scoring combo, and freshman guard Chasson Randle has gotten off to a good start for Stanford, averaging almost 11-points per game this season. However, if Owens gets into foul trouble, he is the Cardinal's only viable scoring option down low. Sophomore forward Anthony Brown will need to pick up his scoring if Stanford is to improve over last year's 15-16 record. Another problem for Stanford: the team is shooting only 62 percent from the free-throw line this season.
Player to Watch: C Josh Owens. Stanford will need its veteran big man on the court as much as possible to provide scoring and rebounding. (Shamout)
7. Oregon State Beavers
The Beavers have started the year 5-1, with their only blemish coming in a 2-point loss to No. 22 Vanderbilt. Junior guard Jared Cunningham has been on fire, averaging over 20-points and shooting over 50 percent from the field. Sophomore forward Devon Collier is also abig scoring threat, but frontcourt size will be a huge concern for head coach Craig Robinson heading into conference play. Right now, the team's leading rebounder is redshirt freshman center Eric Moreland, who is only averaging 6.2 per game.
Player to Watch: G Jared Cunningham. Cunningham will need to be a very accurate shooter this season, because Oregon State probably won't be able to grab many offensive rebounds. (Shamout)
8. USC Trojans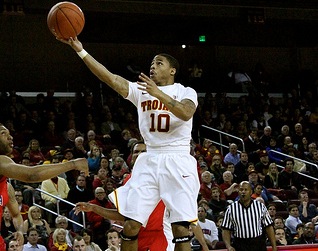 The learning curve will be a steep one this year for the Trojans, with so many new faces on the team. It will be up to sophomore guard Maurice Jones (left) to pick up the scoring burden that was created when senior Jio Fontan tore his ACL during the preseason. Luckily, Jones is averaging 16-points per game already this season, so he is off to a good start. Transfers Dewayne Dedmon and Aaron Fuller will need to adjust to life in the Pac-12 very quickly if USC is to have any hope of competing for a spot in the tournament. Depth and scoring will be the biggest issue going into conference play.
Player to Watch: C Dewayne Dedmon - At seven feet tall, Dedmon is the biggest wild card in the Trojans' deck. Head coach Kevin O'Neill will need the NBA prospect to step up and play consistently on both ends of the court. Dedmon is averaging 7.7 points through seven games this season. (Shamout)
9. Arizona State Sun Devils
The Sun Devils are coming off a disappointing 12-19 season. However, they return Trent Lockett, who is off to a fast start this season. Still, they lose a bunch of starters off a team that was not great last year. It's hard to have high hopes for the Devils. (Katz)
Player to Watch: Trent Lockett, G
10. Washington State Cougars
The Cougars lost two of their best players to the NBA in Klay Thompson and DeAngelo Casto, who averaged 12.5 and 12.0 points last season, respectively. Their scoring will be missed, as will Casto's shot blocking and rebounding. Senior guard Faisel Aden is dangerous from three-point range, shooting 46 percent from beyond the arc and averaging 17-points through six games this year. Freshman guard DeVonte Lacy is also having an immediate impact in the backcourt, but the Cougars' frontline is very thin. Junior forward Brock Capers represents their only real scoring and rebounding threat down low.
Player to Watch: G Faisal Aden. Aden (below right) will need to have a monster year for the Cougars if they are to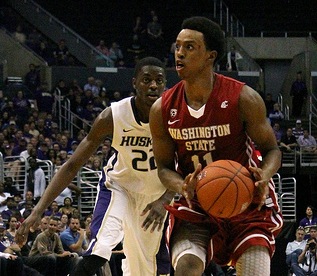 have any hope of finishing in the top half of the conference. Not only will Aden need to score, but he'll also need to create easy buckets for his big men. (Shamout)
11. Colorado Buffaloes
Not only did the Buffs lose starting guard Alec Burks to the NBA, but they lost their top five leading scorers from a team that made it to the semifinals of the NIT tournament. They have no one taller than 6-foot-7 that is seeing more than 20 minutes a game on the court, which doesn't bode well for the Buffs. (Katz)
Player to Watch: Carlon Brown, G
12. Utah Utes
Utah was 13-18 last season and now enters the Pac 12 (better than the Mountain West). They lost a lot of depth due to graduation, and are off to a 1-5 start thus far. Things do not look to be getting better in Salt Lake City. (Katz)
Player to Watch: Josh Watkins, G
__________________________
Reach Michael by email or follow him on Twitter. Reach Omar by email or follow him on Twitter.
Best way to find more great content from Neon Tommy?
Or join our email list below to enjoy the weekly Neon Tommy News Highlights.