Los Angeles
Clare Foundation: Fighting Addiction In Los Angeles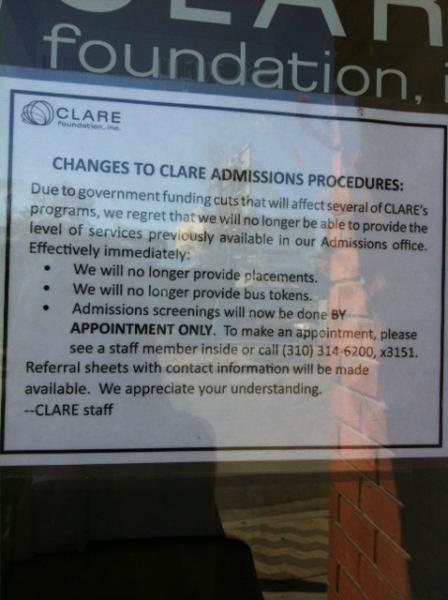 The door to the small Santa Monica offices of the Clare Foundation reveals a new sign taped to its window. It warns potential patients battling alcoholism and drug addiction that treatment now comes at a cost.
The somber warning on the foundation's door lists three changes, effective immediately: "We will no longer provide placements," "We will no longer provide bus tokens," and "Admissions screenings will now be done by appointment only."
The past two months brought a change to the grassroots organization that started in 1970 to help homeless alcoholics on the beaches of Santa Monica, Calif. With the decrease of government-funded contracts and individual donations, Clare is feeling the pinch to reduce its overhead to keep services intact.
These changes represent the way in which the Clare foundation is adjusting to the economic downturn. The foundation said their annual budget of $5 million has not changed from last year, although next year's budget may decrease.
"The biggest change is that Clare now makes clients pay a $150 fee of admission," Clare representative Brenda Del Castillo said. "Our model has changed with the flat fee. Many homeless people can't afford it, and we're known for helping them."
Eighty-three percent of all patients that approach Clare for help are homeless. Denying help to a demographic that Clare once easily served represents the organization's struggle.
"We have to manage to do more with less while still reaching the same number of people, which means reducing staff and some services," Community Relations representative Tamara Pompey said.
The Clare Foundation sees a national health care plan that includes coverage for substance abuse treatment as a solution to their economic struggle.
"If the health care reform goes through, there should be a waiver entitling people to benefit from substance abuse programs the same way it does regular health," Pompey said. "In that case, [patients] would bill healthcare providers."
Government support would enable the organization to reach its potential for helping those in need by eliminating its flat fee of admission, offering a spectrum of services and housing a full staff.
The Clare Foundation once employed nearly 70 people trained to assist the 30,000 patients every year that requested help. Now, Clare's staff fluctuates between 50 to 60 employees. Although the organization cut employees, it is working through the recession to avoid eliminating its valuable ten treatment programs.
"Our population has so few options for services. It is of primary importance not to restrict this," Pompey said.
Ten percent of the patients who request help from Clare are placed in one of these ten programs. The remaining group receives information and referrals, especially those with mental conditions too severe for Clare's resources to treat in-office. Addiction is only a primary disease, and many suffer from additional diagnoses like schizophrenia. These cases are referred to specialized doctors.
"It's hard to meet demands one hundred percent. Not everyone wants to get sober," Pompey said.
Despite its financial setbacks, Clare is committed to maintaining its mission statement of "compassionate treatment and recovery services" to a community in need. The organization began simply focused on alcoholics, and now treats the whole spectrum of addiction through in-and-out patient and prevention programs.
"A lot of it is just education. Go to our website (http://www.clarefoundation.org/) and learn about the opportunities we have to support our patients," Pompey said.
Volunteers are as vital to the organization's stability as individual monetary donations. Clare's emphasis on combating the stigma attached to addiction is its ultimate goal.
"When people get over that, it's a big step." Pompey said.
Reach Sophie Elkus here.
Others in this series:

L.A. Mission Cuts Jobs to Feed Homeless

On Skid Row, the LA Mission provides a large community, but at a cost.

Continue here.

Homeboy Industries: A Year Later

After nearly going bankrupt, Homeboy Industries manages to find financial stability.

Continue here.

PAWS For A Cause

Studies prove that people with life threatening illnesses improve their health and memory by having a pet. Woof woof!

Continue here.

There's a Place I Know, A Place Called Home

A Place Called Home provides a safe haven for children in South Central Los Angeles.

Continue here.

Chrysalis Endeavors To Bring People Back To Work

Chrysalis is getting the unemployed back on their feet.

Continue here.

Project Angel Food Cuts Costs, Saves Nutrition

Project Angel Food implemented new programs to continue providing healthy meals at no cost.

Continue here.

Newly Poor Seek Aid At Union Rescue Mission

From six-figure salary to homeless shelter: one family recounts their fall in this tough economy.

Continue here.

Hippie Kitchen Keeps Hopes High

The L.A. Catholic Worker Soup Kitchen keeps hunger at bay for the homeless on the streets.

Continue here.

Foothill Family Service Faces Increased Demand In Spite Of Decreased Funding

Foothill Family Service works to prevent poverty, community violence, domestic violence and job loss in the San Gabriel Valley.

Continue here.
Best way to find more great content from Neon Tommy?
Or join our email list below to enjoy Neon Tommy News Alerts.