Entertainment News
Celebrities Using Fame For The Greater Good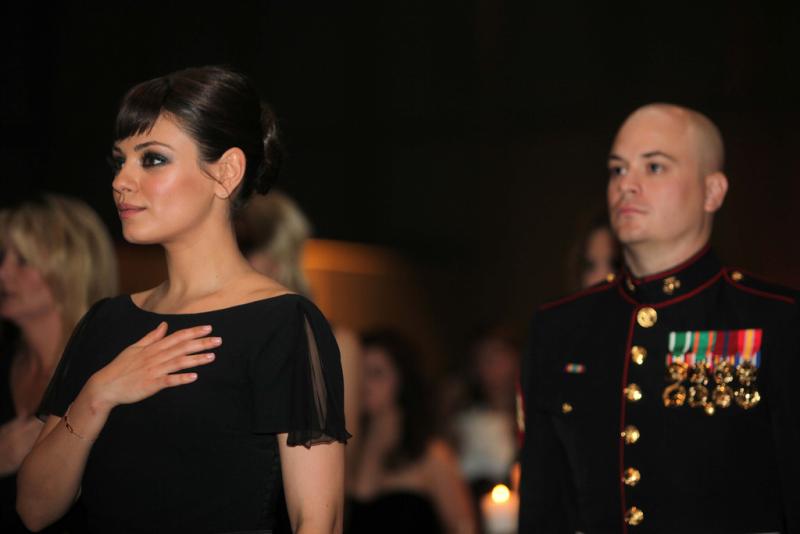 It's been one of
those
weeks in celebrity news. The Ashton Kutcher-Demi Moore divorce has become
embarrassing
, baby-momma drama
plagued
America's favorite diva, a
Hilton
crashed into two parked cars, and get this:
Kris Humphries is sad
!
While we debate the true composition of Kim Kardashian's million-dollar attribute, some celebrities are using their fame to constructively impact society.
Mila Kunis attended the 236th annual Marine Corps Ball in Greenville, NC, on Friday night as a guest of Sgt. Scott Moore. This summer, Sgt. Moore, who had most recently been in Afghanistan, invited Kunis to the Ball via YouTube. The actress accepted the invitation in July after her "Friends With Benefits" costar Justin Timberlake urged her to "do it for [her] country."
Friday, Kunis kept her word and attended the Ball, mingling with the 3rd Battalion 2nd Marines throughout the evening. Last week, Timberlake also attended a Marine Crops Ball in Richmond, VA; Cpl. Kelsey De Santis invited the actor via YouTube as well.
While Kunis was dancing with Marines, Lil Wayne and his Cash Money crew were down in New Orleans handing out turkeys on Friday night. For sixteen years, Cash Money and CEO Birdman have held annual turkey giveaways, lifting spirits throughout their home community for the holidays.
"It's actually been my first time back here for the past eight or nine years and they've been doing this for fifteen years," Wayne told MTV News. "Me just being super busy, always being on tour or something like that. But this is amazing, especially experiencing it now from the point of view of 29-year-old a person with the things that he needs in place."
Bryan "Birdman" Williams added: "Knowing we once was them... for me to see that they see us... hopefully it's an inspiration for them and something positive can come out of it."
Reach reporter Greg Asciutto here.
Best way to find more great content from Neon Tommy?
Or join our email list below to enjoy the weekly Neon Tommy News Highlights.