National
Cain Responds to Accuser, Releases Scathing E-mail; Press Conference Coming At 2 p.m.

Presidential hopeful Herman Cain came out firing Tuesday morning, releasing a scathing press release critical of Sharon Bialek, the first woman to accuse the Republican frontrunner of sexual harassment.
Cain's press release comes a day after Bialek held a press conference and accused the former Godfather's Pizza CEO of groping and "unwanted advances." Bialek spent Tuesday morning giving her side on a slew of talk-shows, including ABC's "Good Morning America," CBS's "The Early Show," NBC's "Today Show," and CNN.
Cain's press-release response comes before his own scheduled news conference, to be held at 2 p.m. PST today.
"We are taking this head on," said Cain.
Cain's camp sent the press-release — titled "Who is Sharon Bialek?" — in an e-mail to supporters today.
"The fact is that Ms. Bialek has had a long and troubled history, from the courts to personal finances — which may help explain why she has come forward 14 years after an alleged incident with Mr. Cain, powered by celebrity attorney and long term Democrat donor Gloria Allred," the e-mails says.
The e-mail includes Bialek's long history of filing lawsuits and her troubled financial past.
Cain also appeared on Jimmy Kimmel's show Monday, and called the allegations "totally fabricated."
The snapshot below contains the full press release: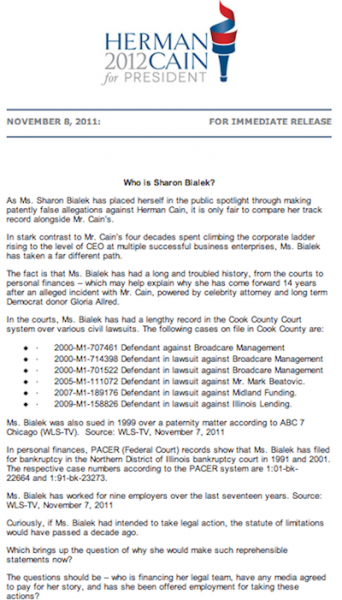 Best way to find more great content from Neon Tommy?
Or join our email list below to enjoy the weekly Neon Tommy News Highlights.