Commentaries
Black Friday 2011: Reflections Of A Shopper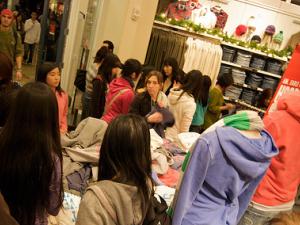 It's Black Friday and though I'm currently working on just two hours of sleep, I am thankful. For what? Well for starters, I'm thankful I made it through my 12th annual shopping excursion unscathed. Sure, I may not have gotten all the bargains I was hoping for this year, but I also did not get robbed,
pepper sprayed
or shot at it.
The bargain hunting started early this year, on Thanksgiving night to be precise, and it was the biggest crowd I have ever seen. My night began at a Los Angeles-area Wal-Mart around 9 p.m. Thursday. I waited in line with hundreds of my closest friends, watching the clock tick to 10 when the retailer's discounts were supposed to begin. To say the store was a madhouse would be an understatement. I usually stay away from Wal-Mart on Black Friday due to the store's reputation for hosting stampeding shoppers but this year, the Thursday night opening and deals lured me in. My presence at the store was not without trepidation. Having never been to this particular Wal-Mart before, I kept my eyes and ears open for trouble, but short of a few customers yelling at employees due to the excruciatingly slow-moving check-out lines and a general lack of organization, all was pretty calm.
Unfortunately the same could not be said for some of the retailer's other California stores. Police are still looking for a woman who sprayed a crowd of shoppers with pepper spray at another Los Angeles-area Wal-Mart. Witnesses say the incident was over an X-box video game console. At least 20 people, including children, were injured in the attack. Meanwhile, in Northern California, a men was robbed and shot in a San Leandro parking lot as he was bringing his purchases to the car.
There were reports of shots fired at a mall in Fayetteville, N.C. but no one injuries were reported. And of course there were a myriad of fist fights and shouting matches around the country, including the mall I was at in Culver City.
These incidents likely contribute to the reasons my family and friends call me crazy and ask me why I want to shop on the busiest day of the year. My standard response for the last decade has something to do with the deals being the best of the Christmas season and getting home before the crowds get real big. If this year is any indication however, I'm going to have to re-evaluate my choices.
The deals were not as good this year, or maybe nothing I was looking for was on sale, with the exception of blu-ray movies. If you wanted a flat screen tv, then Black Friday was your lucky day. Many stores, including Best Buy, Target and Macy's opened at midnight for the first time this year. The move caused some controversy, but based on the crowds in Los Angeles, I'd say shoppers were sweet on the idea. According to the Wall Street Journal, the scene in L.A. was repeated around the country.
More shoppers means a boost to the struggling economy, but for those of us who braved the crowds, it also means longer lines shorter fuses. For the most part the queues remain civil, with conversations and commiseration about how long you've been in line, what other stores you went to and where you're planning to go next.
My nine-hour shopping tour ended just before sunrise and consisted of five stores. I have not yet calculated how much money I spent, instead I'm choosing to focus on the number of gifts I crossed off my list and the amount of money I saved. If you didn't make it out to the stores on Black Friday don't worry, there are still 28 shopping days left until Christmas.
Reach Christine Detz here
Best way to find more great content from Neon Tommy?
---
Or join our email list below to enjoy Neon Tommy News Alerts.