Los Angeles
Bank Transfer Day Rally Targets Bank Of America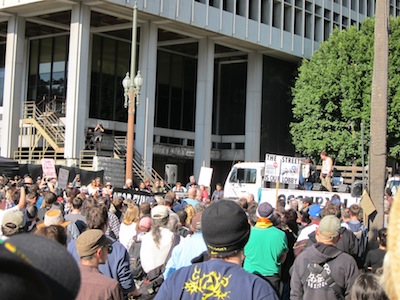 Bank of America canceled a $5 monthly debit usage fee in early November due to customer backlash, but participants in the Bank Transfer Day Rally in downtown Los Angeles still encouraged a move to smaller, local banks and credit unions on Saturday.
According to the
Huffington Post
, Bank Transfer Day began with a personal Facebook post by Kristen Christian, a 27-year-old Los Angeles gallery owner, that read, "If you don't want to pay the likes of Bank of America $5 a month to access your money via debit card, just transfer your cash to your friendly, local credit union."
Although not officially affiliated with the Occupy movement, Occupy LA and other movements across the country have rallied behind Bank Transfer Day.
Occupy LA organized a Bank Transfer Day march through the financial district of downtown Los Angeles early Saturday morning and had teach-ins and speakers the rest of the afternoon.
One participant, Jan Zahler Zoochi, said that she has initiated transferring money out of Bank of America which has proven to be a lengthy process since she uses online bill payments, but she is committed to her actions.
"If we don't say 'Enough already' and don't take actions, then the status quo will perpetuate itself," said Zoochi.
Another protester, Alexis Campestre of South Texas, came to the rally to "promote the idea that the Federal Reserve has control over the money supply and is systematically pillaging and plundering the money of Americans."
"I don't think that banks themselves are the problem," Campestre said. "I think it's the relationship between banks and corporations and the government that is the problem."
According to its
website
, Bank of America has 50 branch and ATM locations in Los Angeles, making it convenient for many customers.
But convenience is not necessarily a major issue in transferring to a credit union according to Shaunte Palmer, who attended the rally to watch the band Ozomatli perform. Palmer is a long-time member of Wescom Credit Union.
"I try to consolidate my trips to the bank," Palmer said. "It's worth it, rather than having some guy sitting over your money saying, 'I'm going to take $5 out.'"
More than 650,000 consumers across the nation have joined credit unions in the past month, and credit unions have added about $4.5 billion in new savings accounts, according to the
Credit Union National Association
(CUNA).
But some Bank of America customers would not have moved their accounts if the debit fee had been implemented.
Jeremy Wingerter, a PhD student in Education at the University of Southern California, said he would not have transferred because of the amount of accounts he has there, including mortgage and savings accounts.
"In the grand scheme of things, it's $5 for the amount that I use-- once a month would not have deterred me," Wingerter said. "But if it went higher, I would have looked for other options."
For a foreign student, a large financial institution like Bank of America comes highly recommended and trusted by family members when it comes to sending money, according to Sriram Sham, a graduate student in computer science from India.
Alan Green, a professor of education at USC, said that he uses a credit union for everyday banking but sends money to family in other states with Bank of America.
"But I'm glad that people are moving to credit unions and local banks," Green said.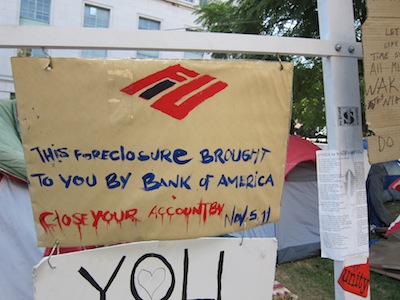 David Darnell, co-chief operating officer of Bank of America, said in a
press release
about the debit fee cancellation, "We have listened to our customers very closely over the last few weeks and recognize their concern with our proposed debit usage fee."
For students, $5 a month adds up to $60 a year, said Tiffany Putri, an undergraduate business major at USC.
"Five dollars is a lot for a student, especially since some students don't work or only get money from their parents," said Putri.
Even though Occupy LA strongly supported Bank Transfer Day and sponsored day-long events for it, not everyone that plans to close their account is part of the Occupy movement.
Isaac Mason, a USC staff member in the Fine Arts' communications department who plans to switch to the USC Credit Union, was not influenced by the Occupy movement.
"I respect what they're doing," Mason said, "but I don't think they have had any effect on me personally."
Instead, Mason cited an article in The New Yorker on how to change the financial system as the reason behind his decision to transfer his account.
William Yardley, a computer specialist at the California Institute of Technology, closed his Bank of America account but was also not directly influenced by the Occupy movement.
"I'm not trying to make a statement with a capital 'S,' and I'm not angry at the banking industry or evil bankers," Yardley said. "I'm just a dissatisfied customer."
Bank of America has said that they have no plans to move forward with the monthly debit fees, but protesters at the Bank Transfer Day Rally were suspicious.
"They're going to find another way," said Barbara Lestak, a 74-year-old attendant of the Bank Transfer Day teach-in, "and you have to watch their statements and the pennies they charge."
"I would never be with Washington Mutual, Citibank or Bank of America, because of the way they are not fair to their customers," Lestak said.
Although Bank of America has responded to negative public outcry to their debit fees, the crowds of hundreds at the Bank Transfer Day Rally in Los Angeles demonstrated a shift in public sentiment toward Bank of America as well as other large banks.
--------
Reach Tricia Tongco here and follow her on Twitter.

Editor's note: The quote attributed to Alexis Campestre about the relationship among banks, corporations and the government was edited to improve clarity on Nov. 13.
Best way to find more great content from Neon Tommy?
Or join our email list below to enjoy Neon Tommy News Alerts.