National
American Airlines Files For Chapter 11 Bankruptcy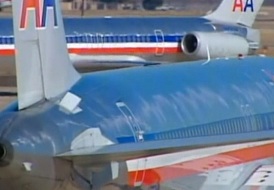 In the wake of mounting debt incurred over the years by high labor and fuel costs, American Airlines parent company filed for Chapter 11 Bankruptcy Tuesday morning. According to
The Washington Post
, the move will allow AMR Corp. to restructure its operations while allowing them to also seek protection from creditors.
More from The Washington Post: "American is the most recent major U.S. carrier to face bankruptcy in an industry that has lost more than $20 billion worldwide during the past decade. American's parent company, AMR Corp., has suffered $10 billion in losses since 2001."
According to The New York Times, one of AMR's main goals in filing bankruptcy is to reduce its labor costs.
In addition, the Associated Press reported that CEO Gerard Arpey stepped down on Tuesday. He will be replaced by the company's president, Thomas W. Horton.
Horton said the decision to file for bankruptcy was made unanimously by the board of directors Monday afternoon in New York
"This was a difficult decision, but it is the necessary and right path for us to take — and take now — to become a more efficient, financially stronger and competitive airline," he said. "We must address our cost structure, including labor costs, to enable us to ... secure our future.
The bankruptcy filing is expected to have no impact on travelers. According to the Associated Press: "American said it would operate normally while it reorganizes in bankruptcy. The airline said it would continue to operate flights, honor tickets and take reservations. It said the AAdvantage frequent-flier program would not be affected."
American Airlines, the nations' third largest airline, is the last of the "legacy airlines" in the U.S. to file for bankruptcy. Delta and United also filed for bankruptcy in the past decade.