Film and TV
"X-Factor": First Live Taping Recap
This week on the "X-Factor," the format has changed yet again. The first live show opened with shiny new introductions for each of judges' teams, setting off a spark of competitive spirit right from the start.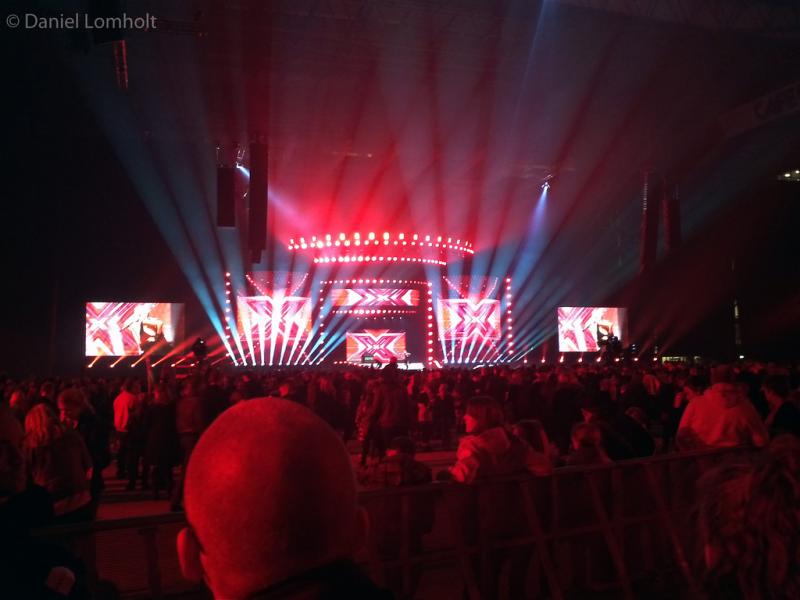 Five of the 17 acts need to be sent home by the end of the show, leaving the final 12. That means that three acts in each category (girls, boys, over-30's and groups) will make it through. Simon is forced to eliminate two girls.
Astro opens up the night, looking like LA's mini-me. The song, which is energetic and confident, is definitely a good opener for the show. Astro nails it, and LA is happy with his first act.
After the ever-likable Chris Renee, LoMax performs "I'm A Believer." Something about his performance is charming, but disconnected. He definitely seems to be the weak link.
Finally, Marcus Canty sings an incredibly flattering, vintage "Do You Really Want To Hurt Me," with excellent production qualities that make it feel up-to-date. He looks comfortable on the stage, and the performance goes over well.
Sure enough, Lo Max is eliminated.
Paula's "Groups" category starts off with Stereo Hogzz, who sing an excellent rendition of "Try A Little Tenderness," winning everyone's hearts.
Next up is The Brewer Boys, who are sweet, but lacking the performance maturity that they would need to kill the competition.
After the musical theater-influenced inTENsity, Lakoda Rayne comes on and does a country version of "Come on Eileen." Despite Nicole's comment that they "looked like family," their chemistry seems manufactured.
The Brewer Boys get eliminated, which, again, seems pretty obvious.
Nicole's "Over 30's" group starts off with Dexter Haygood, who has always been difficult to place. She gives him a mash-up of Britney Spears and Katy Perry, and Dexter comes off looking like he can't handle the stage. The dancers are more confident and entertaining than he is.
LeRoy Bell delivers a good performance, but he needs a confidence boost.
Stacy Francis takes the stage and confuses Simon with her strange outfit and less-than-stellar vocals. Francis has the potential, but it's hard to know if she'll make it through much of the competition.
The "Over-30's" certainly saved the best for last, with Josh Krajcik singing "Forever Young." His resonant vocals penetrates through the audience, making him a standout.
Dexter is eliminated, which is clearly the right choice for Nicole.
Simon's "Girls" take the stage last, starting with Simone Battle. She's horrible, but that's not a surprise to anyone.
Rachel Crow sings a mash-up of Justin Beiber's "Baby" and The Supreme's "Where Did Our Love Go," that works well, but everything else going on around her on the stage takes away from her performance.
The real stand out of the girls is "Drew," who does an unbelievably genuine rendition of "What A Feeling." She's only 14 years old, but her stage quality is incredibly soulful. She's the kind of performer that makes everyone in the audience a die-hard fan, because she makes you feel like she's singing directly to you.
Tiah Tolliver sings "Sweet Dreams," but it was a complete letdown. Finally Melanie Amaro wraps things up with a song which is predictable, but well done, according to Simon.
Next week, the final 12 contestants will perform. The audience can expect a lot from Marcus Canty, Josh Krajcik and Drew, in particular.
Reach Anita here.
Best way to find more great content from Neon Tommy?
Or join our email list below to enjoy the weekly Neon Tommy News Highlights.