USC Sports
USC Football: Stanford Preview and Analysis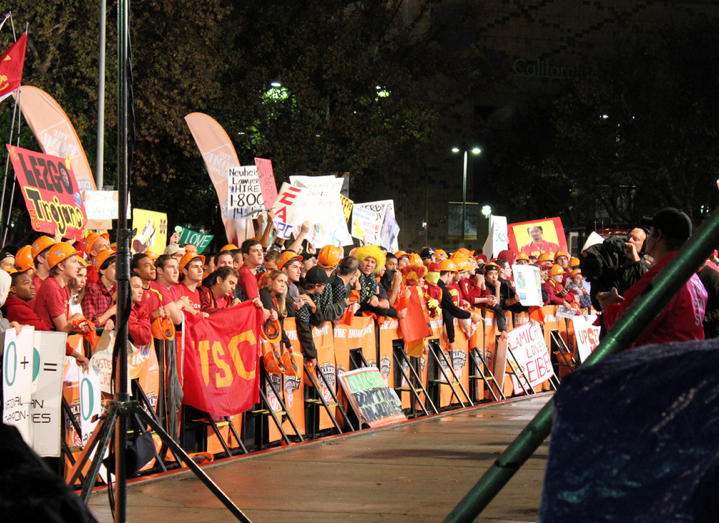 The Trojans can't afford to mess around anymore. It's officially go time.
No. 20 USC (6-1) returns to the Coliseum for its biggest game of the year so far, taking on No. 4 Stanford in front of a primetime television audience.
The Trojans are fresh off their biggest victory of the season, defeating archrival Notre Dame 31-17 on the road in South Bend.
While the Trojans looked strong against the Irish, Stanford was downright dominant against Washington, crushing the Huskies 65-21 while piling up a school-record 446 yards rushing.
What to Watch For:
ESPN's College Gameday will be broadcasting live from the Coliseum, the first time Chris Fowler and company have visited Los Angeles since last year's meltdown against Oregon.
Hopefully the presence of ESPN's A-team (and Erin Andrews) is enough to get a bigger crowd to the Coliseum. Through the first four games, the largest announced attendance was 73,821, nearly 20,000 short of capacity. The Trojans are going to need a lot more support than that if they are going to keep Stanford's rowdy fans (and that annoying tree) from becoming a distraction in their own stadium.
For fans looking for star power, there won't be a better game in the Pac-12 this season. The matchup features three of the top five players in the conference in quarterbacks Andrew Luck and Matt Barkley, and receiver Robert Woods.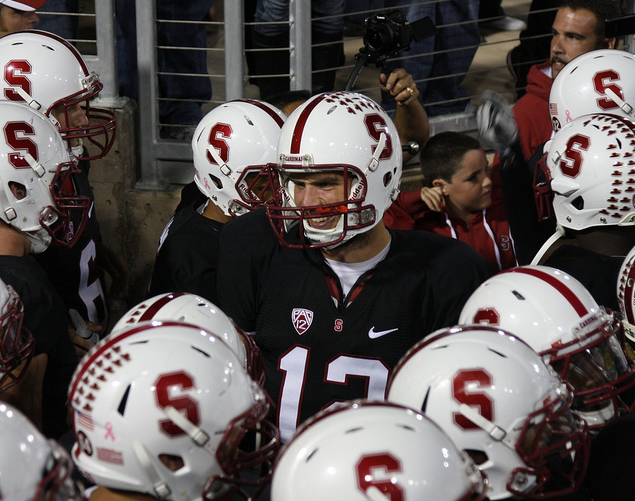 Certainly, numerous NFL scouts will be in attendance to watch Luck, Barkley, and tackles Matt Kalil and Jonathan Martin, who are all among the top 12 prospects on NFL draft guru Mel Kiper's Big Board.
In case you haven't heard, Stanford is on a bit of a hot streak. Winners of their past 15 games, the Cardinal have defeated their last 10 opponents by more than 25 points, the first time this has ever been done in the modern era. I guess David Shaw has done all right taking over for Jim Harbaugh.
And that impressive winning streak started last year against the Trojans. The Cardinal has won three of the last four in the series, so USC's seniors probably don't have too many fond memories of their opponent this week.
The big news out of USC this week was the decision for Dillon Baxter to leave the program, a move that surprised no one who's been following the team recently. Lane Kiffin is trying to prevent this situation from becoming a distraction, but it's not like he can make his players forget that Baxter isn't there with them.
When USC is on Offense:
If Barkley has a good game, the Trojans have a shot against any team in the country. If not, well, it is going to be a long night against the Cardinal.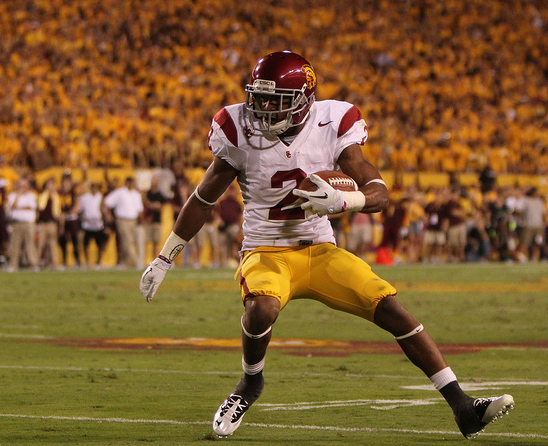 He bounced back from his inaccurate Cal performance with a masterfully efficient game against Notre Dame, finding Woods on numerous occasions and never forcing the ball into coverage. He also showed off some nifty moves running for a few first downs, to the delight of the Trojan faithful.
Woods has been every bit as important to the offense as Barkley, and you can make the case that he is the team's MVP through the first seven games. He's second in the country in receptions with 72, third in receiving yardage at 902 and tied for fifth in touchdowns at eight. Not bad for a guy in just his second year out of high school.
Besides all the gaudy stats, the biggest thing Woods brings to the offense is toughness. Despite his average size, he is never afraid to get the tough yards his team needs for a first down. And he plays with an edge and tenacity that is infectious to his teammates.
Of course, his receiving buddies like having Woods around because he attracts so much defensive attention. Marqise Lee has enjoyed an impressive freshman debut out wide, and many times Lee has been wide open because defenders are flying to Woods' side of the field.
USC may catch a bit of a break this week if strong safety Delano Howell isn't able to suit up for the Cardinal. He is Stanford's best player in the secondary, and teams with Michael Thomas to form the best safety tandem in the conference. Thomas will still be lurking though, and has two picks on the season.
Stanford's cornerbacks, Johnson Bademosi and Barry Browning, are fairly anonymous, mostly because the killer pass rush has eliminated a lot of their chances to make big plays. Of course, that also means they haven't been really challenged yet this season, so expect Woods to have another huge performance.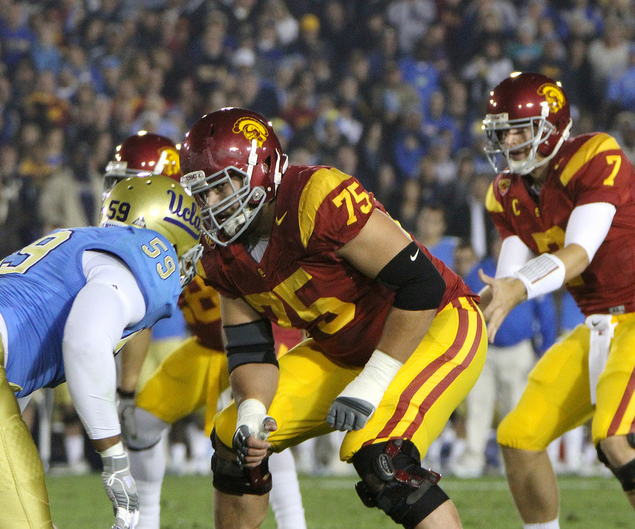 The much-maligned USC offensive line has played better than expected this year, having allowed only four sacks. Kalil is on his way to a bunch of accolades for the job he has done this year, but the combination of Marcus Martin, Khaled Holmes, John Martinez and Kevin Graf has been pretty effective since the ASU game.
But they may be in for a bit of a reality check against the Cardinal. Stanford is fourth in the country with 25 sacks, and boasts the Pac-12's best pass rusher in OLB Chase Thomas, who leads the Cardinal with 5.5 sacks.
The most surprising development out of the Notre Dame victory was the success of the running game. Before facing the Irish, the Trojans had a lot of trouble establishing a consistent ground game. That was not the case last week, as USC ran straight at ND early and often, and established a physical tone for the rest of the game.
Senior Marc Tyler gamely weathered a dislocated shoulder to face the Irish one final time, and Curtis McNeal shattered previous career highs in both attempts (24) and rushing yards (118). Expect both to be called upon to take some of the offensive pressure off Barkley.
Stanford is a veritable brick wall in rushing defense, allowing only 75 yards per game on the ground, which ranks it third in the FBS. And they've managed to keep this lofty ranking despite losing their best linebacker, Shane Skov, to a season-ending injury last month. Jarek Lancaster and Max Bergen have been very steady in Skov's place.
The Cardinal defensive line usually does most of the dirty work for the defense, and doesn't get the praise they deserve because they aren't making a ton of impact plays. Sophomore Ben Gardner has been the most effective of the three-man group, while senior Matt Masifilo is the team's defensive leader.
I don't usually mention special teams, but I should because freshman Andre Heidari has been awesome so far. But he hurt his ankle against Notre Dame and might not be able to suit up this week, which would severely limit the Trojans kicking game. Think "no field goals longer than an extra point"-kind of limits.
When Stanford is on Offense: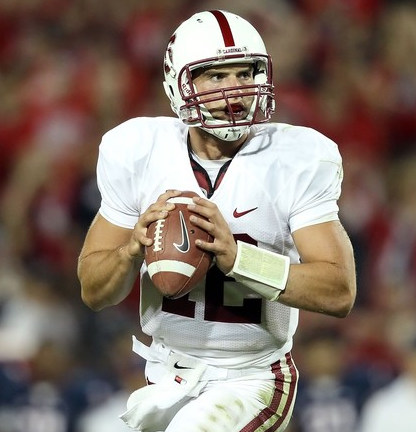 The Trojans defense faces its toughest test of the year this week in Luck, and will be hard pressed to find a way to limit the damage he does. Oregon's spread presents the most challenges schematically, but Luck is far and away the most dangerous individual the Trojans will go up against.
You really can't say enough about the job that Luck has done through seven games. He's fifth in the nation in passing efficiency, has thrown for 20 touchdowns with only three interceptions, and has taken only two sacks. And he has done this while managing the pressure that comes with being the most hyped quarterback prospect in the past decade.
The defensive line will need to get better pressure on Luck than they did against Notre Dame QB Tommy Rees, who seemingly had all day to sit back in the pocket and pick the Trojans apart. Monte Kiffin has been reluctant to blitz in fear of getting burned deep, but against an elite quarterback like Luck, this strategy is highly flawed.
The Trojans have not been quite as successful as Stanford against the run, but they are 11th in the country, so they aren't that far off either. DaJohn Harris has stepped his game up in a big way, and Christian Tupou's return from last season's knee injury has provided the unit with a lot of leadership and toughness.
After stuffing Notre Dame for just 41 yards on the ground, the Trojans will get a much tougher task in slowing down the Cardinal rushing attack. I know, that's fairly obvious considering Stanford ran for 446 yards against a ranked opponent.
With all the attention Luck gets, RB Stepfan Taylor has been the unsung workhorse of the Cardinal offense, churning out 697 rushing yards. He has a lot of help in the backfield, as both Tyler Gaffney and Anthony Wilkerson get their fair share of carries as well.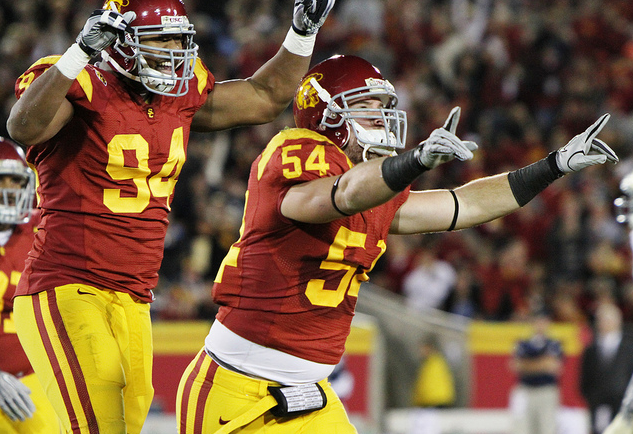 Dion Bailey did not make a lot of noise against Notre Dame, but Chris Galippo came up with his most important play of the season and Hayes Pullard led the team in tackles. They will have a lot more responsibility this week.
Despite returning just two starters from last year's offensive line, Stanford offense has not missed a beat. Of course, it helps when an All-American quarterback is conducting your offense.
And it also helps when those two returning linemen, Martin and David DeCastro, are potential All-Americans in their own right. Still, the job that the new guys up front have done is pretty remarkable.
USC had its fair share of problems covering Notre Dame TE Tyler Eifert last week, which does not bode well for their matchup against Stanford. The Cardinal boast a trio of tight ends that will be playing on Sundays in Zach Ertz, Levine Toilolo and Coby Fleener. Not many schools (besides USC) have that luxury.
Ertz is the steadiest of the trio, with 22 catches on the year. Toilolo is a physically-imposing monster at 6 feet, 8 inches. Fleener is the biggest playmaker, with his amazing one-handed touchdown catch against UCLA the highlight among his seven scoring grabs.
The safeties are going to have a ton of responsibility covering the middle of the field against Stanford, especially when Luck uses play-action. Fortunately, Jawanza Starling seems to have finally figured things out. Oh, and he just made the biggest play of his career.
The Cardinal do not have a receiver as talented as Floyd, but they do have a pair of proven wideouts in seniors Chris Owusu and Griff Whalen. Owusu can fly, and Whalen is tough over the middle.
Nickell Robey responded to the challenge of facing one of the country's premier receivers and came up with his best game of the year, limiting Irish WR Michael Floyd to four catches for 28 yards and snaring his first interception of the season. Torin Harris still looks like a long shot to play though, so the secondary is still a little vulnerable.
Prediction:
USC is riding the biggest wave of momentum it has had all season, coming off impressive performances against two quality opponents in Cal and Notre Dame. And it has every reason to believe it can go punch-for-punch with Stanford after taking the Cardinal to the brink last season.
But as much as I want to pick the Trojans, there are just enough reasons not to, none bigger than that guy wearing No. 12 for Stanford. There is a reason quarterbacks are so coveted in the NFL: they are the biggest difference makers in the game. And few, if any, are better than Luck has been for Stanford.
USC will give Stanford by far its biggest challenge of the year so far, but the Cardinal should still win 34-28. And if I'm wrong, I will be the happiest fan at the Coliseum.
_________________________
Reach Andrew by email, or follow him on Twitter.
Best way to find more great content from Neon Tommy?
Or join our email list below to enjoy the weekly Neon Tommy News Highlights.