Sports
USC Football Practice Notebook: Dillon Baxter's Done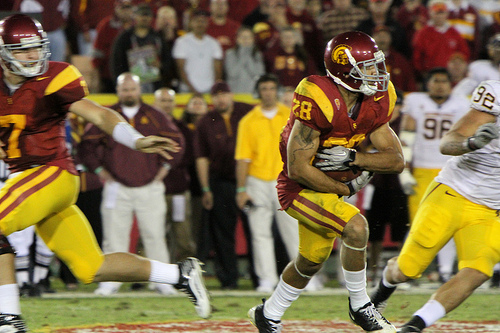 The USC football team is coming off two great weeks…the kind of weeks that have people talking about just what might happen if it weren't for those pesky sanctions. At 6-1, the Trojans face their toughest challenge yet this Saturday, when they play the Andrew Luck and the undefeated Stanford Cardinal at the Coliseum.
Of course, USC presents the first big challenge for David Shaw's athletes, too.
"I think it'll really come down who controls the ball better," USC quarterback Matt Barkley said at Tuesday's practice. "Who doesn't turn the ball over…who can hold the ball for long periods of time and get those big one-strike plays."
DEFENSIVE DEMONS: The Trojans' much maligned defense started to come to life against Cal on the heels of Dion Bailey's two interceptions, and exploded last week with Jawanza Starling's fumble-return for a score and Nickell Robey's shutdown of Notre Dame's Michael Floyd.
"Every week we get better," Defensive Coordinator Monte Kiffin. "Knowing the system, knowing the calls…they're getting more confidence."
DRESSED FOR SUCCESS: The offense wore new cardinal colored jerseys instead of the usual yellow practice jerseys. "Other teams have had these for about 10 years, so we finally got them," Barkley said jokingly. "I think they're waterproof…it's something new we're trying out."
RUN IT OUT: Part of what makes Andrew Luck so difficult to contain is that's a true runner AND a passer, in the style of John Elway or Steve Young. But don't tell that to Barkley. "I can run, every once in awhile!" he said when ask to compare himself to Luck. "I think you can point out pros and cons in both our play."
NO SURPRISE: Dillon Baxter is no longer with the football team, head coach Lane Kififn said in a statement released earlier today. "We're focused on the guys that are here, we're focused on getting ready to play maybe the best team in the country," Kiffin said Tuesday. "This is all about no distractions, and that's why we're not answering questions [about Baxter]."
INJURY REPORT: Cornerback Torin Harris and wide receiver Robert Woods did not practice. Woods "has a few" injuries, Kiffin said without elaborating. Will Woods play this weekend? "I hope so," Kiffin said.
______________________
Reach Kate by email or follow her on Twitter.
Best way to find more great content from Neon Tommy?
Or join our email list below to enjoy the weekly Neon Tommy News Highlights.