Sports
USC Football Fall Notebook: No Rest For The Weary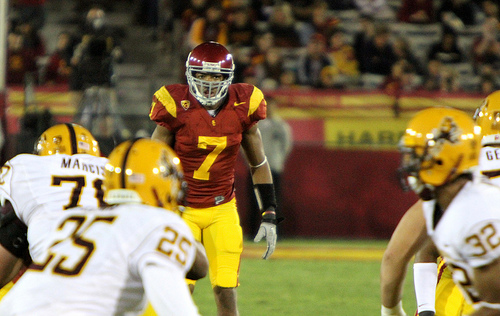 It's bye week at USC, and the Trojans insist they're not taking it lying down.
"You have two choices in a bye week," head coach Lane Kiffin said. "You can sit around, take it easy and work on a few things…or you can really get better."
In addition to the personalized attention Kiffin said will go to players this week, USC is prepping for next Thursday's match-up with an uneven California Golden Bears squad.
After losing to Washington in a heartbreaker for the second year in a row, Cal hits the road this week for its toughest test so far: the No. 9 ranked Oregon Ducks.
With the way the Bears' secondary struggled against University of Washington last week, it's difficult to envision them rattling the confidence of Darron Thomas at home—or disrupting the Matt Barkley/Robert Woods bromance next week, for that matter.
"Cal might look like a 3-4 [defense] but they'll just mess with you a lot, be in and under the whole time and just have a 1 and 3," Trojan quarterback Barkley said Tuesday. "But if we're just sticking to our game plan, it's up to me to recognize those things…then we'll be fine."
Speaking of secondaries, USC's seem's to be coming alive—at least safety T.J. McDonald does, anyway.
McDonald was named Lott IMPACT player of the week in recognition of his two interceptions (of Nick Foles, who hadn't thrown a pick yet this year), on-side kick recovery and six tackles against Arizona last week.
Despite a quiet start to the season, McDonald said he hasn't really made any adjustments that led to his recent explosiveness.
"Those big plays come in bunches," he said. "For me it was just making sure that when those opportunities did come my way, I was going to take advantage of them."
It's not lost on the Trojans that training the next generation of McDonalds and Barkleys is of import during bye week. There was time Tuesday devoted to working with younger players and those who are redshirting, Kiffin said.
The veterans, it seems are leading the way.
"It's a week of opportunity to work on our tecnique, work on plays," junior tackle Matt Kalil said. "Working hard, working with the young guys in case one of the starters goes down, it's a valuable time to improve."
_________________________
Reach Kate by email, or follow her on Twitter.
Best way to find more great content from Neon Tommy?
Or join our email list below to enjoy the weekly Neon Tommy News Highlights.